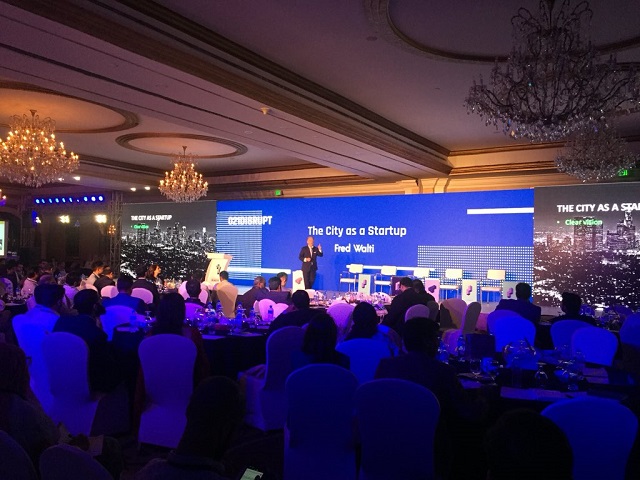 ---
KARACHI: "All mega-cities face the same problems and cities need to start acting like a startup to solve problems", said Fred Walti on Saturday at 021 Disrupt.

Walti, a global expert on developing innovative ecosystems that drive development, hails from California. He said that while megacities such as Los Angeles and Pakistan are very different, they face similar problems such as pollution, traffic and housing.

Girls gotta ride: 'A safe carpool service for women by women'

Walti also addressed the growing need to develop a startup eco-system in mega cities. Establishing a nexus between cities and entrepreneurs was what he emphasised on and added that new startups will allow generation of taxes which would directly help the city. He further stated that a city's number one objective should be to help the citizens be successful. "If you are successful the city will be successful."

The entrepreneur also said cities need to have a clear vision and plan. "All departments of the city should be asked to contribute," he said while explaining how LA has benefited with the addition of a Chief Sustainability Officer. His Los Angeles Cleantech Incubator (LACI) helps promising cleantech startups as they create a green, inclusive economy for the city.

LACI has created 1,695 jobs and delivered $37 9million in long-term economic value for the city of LA, claimed Walti.

Talking about his winning formula, Walti said investing in innovation leads to new products which create new companies and jobs which in turn generates revenue and taxes for the city.

DICE: Creative social enterprises create jobs, experts say

Giving advice to budding entrepreneurs, Walti said his mantra in life is making money while doing good and having fun. "When thinking of a startup, a long hard look should be given at the impact it would have on the city. It's important to enjoy what you're doing, and make money!"








COMMENTS
Comments are moderated and generally will be posted if they are on-topic and not abusive.
For more information, please see our Comments FAQ