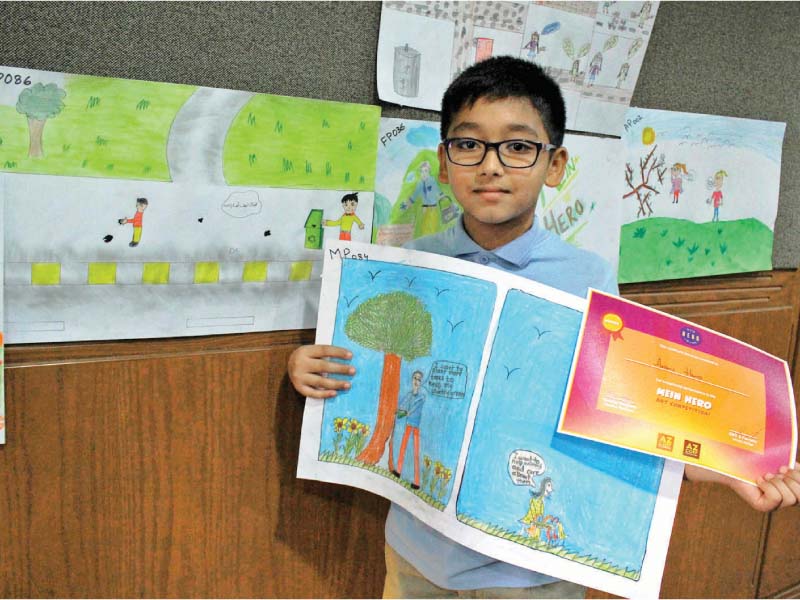 ---
KARACHI: Seven-year-old Saifur Rehman did not have anyone in his neighbourhood interested in a cleanliness drive. He then decided to create a 'Green Army' by reaching out to his friends in the area. The children started cleaning the area on weekends and displayed handmade charts informing residents about the benefits of a clean and healthy environment. The children also took upon themselves the task to eradicate smoking in the neighbourhood. They put up more charts which listed the hazards of smoking.

"There was an uncle in our area, who was a chain smoker. He saw those charts and quit smoking," said Saif who views his efforts as heroic.

Exhibition: Photo contest to celebrate fathers

Saif was sharing his heroic experience at a two-day art competition hosted by AzCorp Entertainment at Karachi School of Business and Leadership (KSBL) on Thursday. It was a one-of-a-kind art competition, titled 'Mein Hero', where students were invited to draw themselves as a hero solving local problems. The objective of the competition was to facilitate underprivileged students to use art as a medium of expression, help them create art and think about bringing social change by viewing themselves as heroes. Attended by around 93 students from 15 schools in Karachi, the event was supported by Sui Southern Gas Company (SSGC).

For Asifa, another student, anyone can be a hero. "There's a sweeper in our apartment who cleans our mess," she said while sharing her thoughts on the idea of a hero. The residents of the apartment talk negatively about him, "But I confront them as the sweeper is my hero," said Asifa.




A student of class six, Sughra's hero is her brother who was once caught in a road accident while trying to save a stray dog. Eleven-year-old Ayesha was eight when she got lost while playing outside her house. "I started crying and kept walking until an old man with a white beard held my hand tightly. He gave me water to drink and consoled me," she recalled. "I kept saying to that uncle that my home is lost," she said laughing, and added that the uncle managed to get her home safe. "I just can never forget his face," she said. She considers that uncle as her hero.

Rabia Shahzad wins gold at Australian weightlifting championship

While students shared their impressions of heroes, the students from grade five to eight also participated in the competition and there were three winners from each grade. On Wednesday they immersed themselves in the process of drawing and creating their heroes and on Thursday their art work was put on display for everyone to see. The judges deliberated the winners after examining all of the amazing art work on display. The students' art work was judged by art veterans including Naheed Yahya, Sana Amjad and Salma Saleem.

Published in The Express Tribune, November 9th, 2018.
COMMENTS
Comments are moderated and generally will be posted if they are on-topic and not abusive.
For more information, please see our Comments FAQ