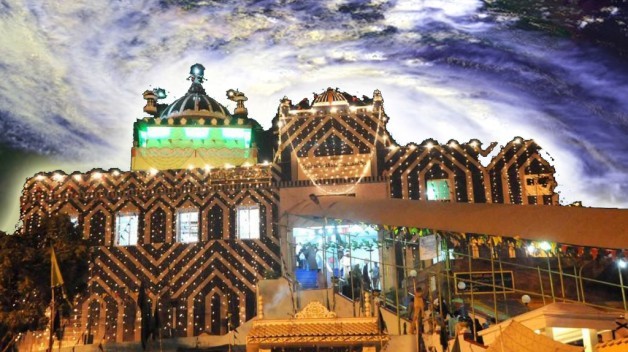 ---
KARACHI: As Cyclone Phet approaches the shores of Karachi and panic levels rise among local residents, many have turned to various patron saints of Karachi seeking protection.

Urban legends of the countless times Sufi saints have protected Karachi from storms and tsunamis are currently making the rounds in the city.

Some stories speak of the saints individually, while others claim that the collective prayers of these saints protect the metropolis.

Four saints

According to one legend four Sufi saints protect the city from impending disaster.

The saints are Abudllah Shah Ghazi in Clifton, Samandri Baba on the National Highway, Yusuf Shah in Manora and Manghoo Baba in Manghopir. It is said that the presence of these saints in Karachi have already saved the city from natural disasters including earthquakes, cyclones and all sea-related phenomenon.

The legend of Abdullah Shah Ghazi

Many Karachiites strongly believe that as long as Shah Ghazi's shrine is kept clean and well-maintained, Karachi will always be spared from deadly sea storms. Most recently, storms were said to have been deflected by the Sufi saint to the Indian city of Gujarat when they were just 10 hours away from Karachi.

A famous legend regarding Abdullah Shah Ghazi says that once when the sea was rough and fishermen could not go out to sea, they went to Abdullah Shah Ghazi and asked him to pray for the sea to remain calm.

Abdullah Shah Ghazi took his eating bowl and submerged it into the sea water and curled the bowl by pressing it from the sides, enclosing the water inside.

He then said to the sea "you have been misbehaving quite a lot lately!", the water is then said to have calmed down. Many people believe the the sea is said to have moved far away because of Abdullah Shah Ghazi's warning.

The seven Sufi brothers

Another legend tells us of seven Sufi brothers, whos shrines protect Karachi from oncoming storms and tsunamis. These brothers were Ghayab Shah of Kemari, Alim Shah of Jamia Cloth, Vilayat Shah of Malir, Jumman Shah of Shahra e Faisal, Samandri Baba on the National Hihgway, Yusuf Shah of Manora and Misri Shah in Defence.

Mewa Shah

Mewa Shah, another local Sufi saint buried in Karachi, is also entwined in the legendary brotherhood of protective saints.

Mewa Shah was believed to have set fire to a ship carrying him to exile, said his prayers on the waves of the Arabian Sea and mounted a large fish which took him back to the shores of Karachi.

Visitors on The Express Tribune website have also kept their faith in Abdullah Shah Ghazi and the patron saints' powers of protection.

Farrukh Ahmed stated, "It is to be noted that all of the times, Abdullah Shah Ghazi saved us from all the cyclones in the past, so please don't worry and have a firm faith in Allah as this will not gonna happen InshAllah (only heavy rains might occur), so let's start pray from today for our City."

Meanwhile, Alam responding to news that Cyclone Phet will hit Karachi as a down graded level 2 cyclone succinctly stated, "Phet 0 – Abdullah Shah Ghazi 1."
COMMENTS (132)
Comments are moderated and generally will be posted if they are on-topic and not abusive.
For more information, please see our Comments FAQ