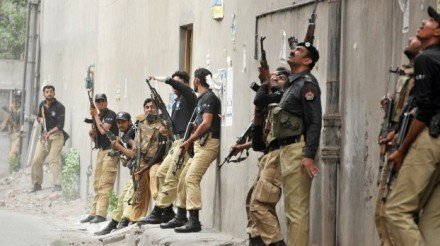 ---
LAHORE: One of the terrorists involved in the attack on the Ahmadiyya worship places in Lahore was identified as Samiullah who is already wanted for the attack on the Sri Lankan team on Thursday.

Sources revealed that the police issued sketches of terrorists involved in the attack on the worship places, which included a sketch of Samiullah who was also involved in the Sri Lankan team attack.

Samiullah, who belongs to Nankana Sahib, is a key member of the Punjab faction of Tehrik-e-Taliban Pakistan and frequently visits Waziristan. The police has already announced a reward on his head.

Police has evidence of Samiullah's involvement in attacks on the Ahmadiyya worship places as well as the Sri Lankan team.

Security heightened for Friday

Keeping in view the recent terror spate in the city, the police has finalised a security plan for Lahore for Friday prayers.

Special security arrangements will be in place for mosques and other worship places of minority communities.

The elite and quick response forces will be stationed at the worship places, while roads near sensitive location will be closed to traffic.

The plan has been devised after the police held meetings with scholars from all religious schools of thought.

All divisional superintendants of Lahore Police also held a meeting with Ahmadi leaders to discuss the security arrangements and the investigations into last Friday's terrorist attacks on the worship places.
COMMENTS (3)
Comments are moderated and generally will be posted if they are on-topic and not abusive.
For more information, please see our Comments FAQ