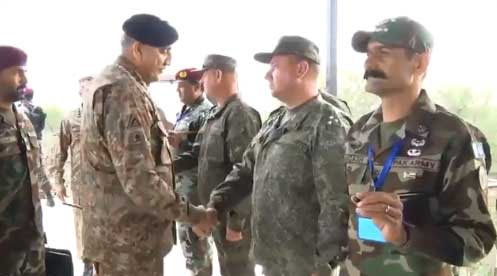 ---
Chief of the Army Staff General Qamar Javed Bajwa on Monday lauded the joint military exercise with Russia and said joint training is a great forum to reinforce existing relationship between the two militaries.


COAS visited National CT Center Pabbi on last day of Pak – Russia Jt Trg Exercise which focused on CT trg of spec ops forces of Pak & Russia while exchanging mutual CT experiences.
"Exercise is great forum to reinforce existing relationship between the two militaries", COAS. pic.twitter.com/D7Kvz1BcEm

— DG ISPR (@OfficialDGISPR) November 5, 2018


The statement by the army chief comes as members of Russian ground forces and elements of Pakistani special forces conclude the bilateral Druzhba-III exercise. The joint military drill focused on counter-terrorism training with troops from both countries exchanging hard-learned lessons with each other.

DRUZBA 2017: Pakistan, Russia hold anti-terror exercise

Gen Bajwa visited the National Counter Terrorism Center at Pabbi and also appreciated the participating troops for their dedication, skill and professionalism.

Russian Deputy Head of Mission in Pakistan Valadamir Betezyuk was also present on the occasion.

Russian troops arrive in Pakistan for third joint military drill

The joint exercises are seen as another step in growing military-to-military cooperation, indicating a steady growth in the relationship between the two countries, whose ties had been marred by Cold War rivalry for decades. In October 2016, they held their first-ever joint military exercise in Pakistan.

In 2017, over 200 servicemen took part in the drills, hosted by Russia at Minralney Vody in the North Caucasus at an altitude of 2,300 meters above sea level.