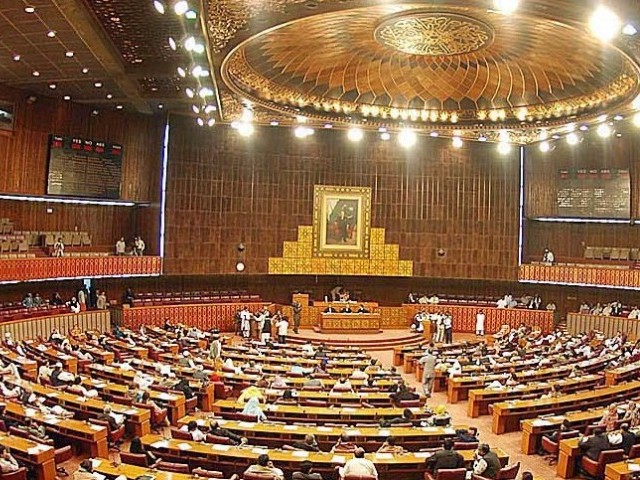 ---
LAHORE/ISLAMABAD: Pakistan Muslim League Nawaz (PML-N) on Friday assailed the federal government for the lack of quorum that led to adjournment of the session and termed it a coordinated effort to keep the assembly from discussing the ongoing crisis-like situation in the country.

Former Prime Minister Shahid Khaqan Abbassi said roads are blocked, motorways are closed, telephone system is down but a way out of this crisis has not been found.

He said we are offered to talk outside the assembly. "If the government was serious it should call an assembly session and let the house discuss the issue."

He added unfortunately the government was evading the assembly to avoid giving answers to opposition leaders instead of taking the house in confidence.

Khawaja Asif said such lock downs and sit-ins were PM Imran's own doing and he the trend setter. "He is enjoying a taste of his own medicine."

He said that even during PTI Dharnas, their government continued with assembly sessions. Asif bashed the government for deferring the assembly till Monday.

Ahsan Iqbal termed it a deliberate attempt by the government to ensure absence from national assembly session that subsequently led to adjournment of session to keep the assembly from debating turmoil in the country.

Opposition leader Shehbaz Sharif said they wanted to deliberate this issue in the assembly and wanted to propose a solution to the government.

Pakistan will not ask China to reschedule $3b loans: Bakhtiar

He held a meeting with Asif and Rana Sanaullah before taking them into confidence on the decision of not meeting the government delegation.

Address in NA: Shehbaz lambasts PM on NRO claims

They also exchanged views on National Accountability Bureau (NAB) cases which were discussed in detail. Shehbaz and two senior leaders made consultations in view of the present situation and discussed the party policy.