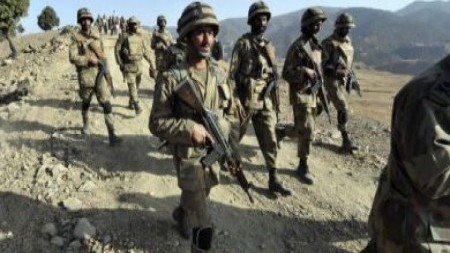 ---
ISLAMABAD: Al-Qaeda-affiliated militants based in the North Waziristan tribal region are shifting their infrastructure and fighters to southern and eastern Afghanistan following reports that Pakistani military is preparing for an offensive against them.

Led by veteran Afghan commander Maulana Sirajuddin Haqqani, the terror network has long been in control of Pakistan's border region, which US officials believe, is the most dangerous place on earth.

Local residents and intelligence officials told The Express Tribune on Wednesday that the Haqqani network — one of three militant groups based in North Waziristan — has started what appears to be a "strategic retreat" to avoid "direct confrontation" with the military.

It all started a couple of months ago and gained momentum following reports that the US is pushing the Pakistani leadership to send troops into the agency.

Reports suggest that militants feared an offensive after a visit to Islamabad by US National Security Adviser General James Jones and CIA chief Leon Panetta.

Though Pakistani officials — both at the foreign ministry and in the military — downplayed reports that they had agreed to immediately move into North Waziristan, militants believe an operation is imminent.

And there was a clear sign on Tuesday when Chief of the Army Staff General Ashfaq Parvez Kayani visited the Orakzai tribal region and announced that the military had "cleared" the area of Taliban insurgents.

Experts like Brigadier (Retd) Mahmoud Shah believe that the Pakistani security establishment has geared up its efforts to clear the "right flank" of North Waziristan that includes areas like Orakzai, Khyber and South Waziristan.

South Waziristan is already under control, according to the military's claim and heavy fighting is underway to regain control of Tirah Valley in Khyber Agency from a group called Lashkar-i-Islam led by commander Mangal Bagh.

The military intensified bombing raids in Orakzai from March this year to flush out members of the outlawed Tehreek-i-Taliban Pakistan (TTP) who took refuge there after fleeing their stronghold in South Waziristan.

Most of them, however, joined other groups in North Waziristan, including the Haqqani network and another faction of TTP led by commander Hafiz Gul Bahadur. But they kept a separate identity as well.

Officials said the militants fleeing North Waziristan might be crossing into southern and eastern Afghan provinces between Nuristan and Paktika. Other possible refuges include the Afghan provinces of Konar, Nangarhar, Lowgar, Paktia and Paktika.

And in some cases, their destination might be further deep into Afghanistan to Laghman, Kapisa, Ghazni and Zabul provinces.

Both Afghan national army and Nato troops have little control over these areas and militants from the Pakistani side of the Durand Line might adjust themselves there without facing any significant resistance.

There are more than 250 illegal crossing points on the porous Pak-Afghan border with only a dozen of checkpoints.

"It is out of question that someone can check or control cross-border movement either way," said an expert from Peshawar who studied the rise of al Qaeda in Pakistan for several years.

He said Haqqani's decision to not confront the Pakistani military is not strange because the group has very strong connections and bases in Afghanistan and it can relocate itself there.

It is, however, not clear whether militants from the Hafiz Gul Bahadur group are moving to Afghanistan as well.

An Islamabad-based expert believes both the groups operating in North Waziristan do have a "working relationship" and they "accommodate" each other whenever needed.

Another group in South Waziristan (in and around Wana) led by Maulvi Nazir (an Ahmedzai Wazir commander) is likely to stay away from fighting as it has done so far.

Published in the Express Tribune, June 3rd, 2010.
COMMENTS
Comments are moderated and generally will be posted if they are on-topic and not abusive.
For more information, please see our Comments FAQ