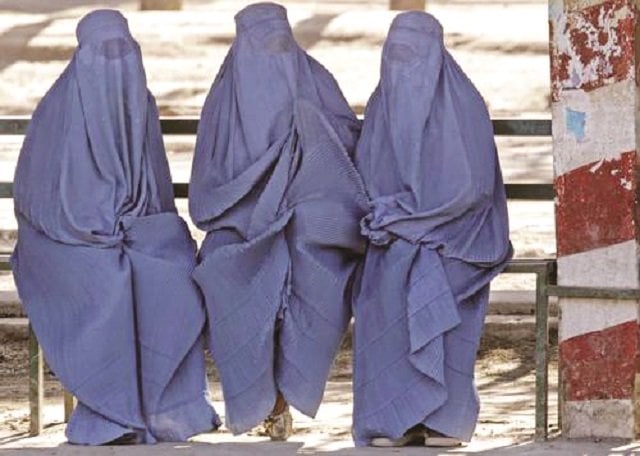 ---
ISLAMABAD: The burqa has grown in to a fashion industry with certain region-specific modifications of colour and style in shape of abayas and hijabs, however, despite rapid social transitions, the use of traditional Afghan burqa still persists, mainly among the traditional Pashtun and Seraiki communities.

Many Pashtun people living in Rawalpindi and Islamabad, though exposed to a cosmopolitan culture, retain their traditional veil, colloquially known as shuttlecock burqa a name dating back to colonial days.

It is phenomenal that this veiled dress, considered a fortress of a woman's modesty among Afghan-natives and Pakistan's tribal people, though mocked by so-called modern societies, endures to survive but no compromise is seen on its typical identity.

'Inappropriate' attire: Security guard issued show-cause notice in Punjab

A significant number of Pashtuns and Seraiki people in Pakistan have retained the traditional blue burqa, wearing it with dignity and as a hallmark of their identity in spite of rapid modern transition in country's social sphere.

Pakistani women have transformed it by introducing new shades and adding embroidery on it without affecting its aboriginal identity.

"I know our wearing shuttlecock is mocked by so called modern segment but I confidently move in the city while performing my domestic responsibilities as my spouse is abroad for a livelihood, "said 39-year old Shazia Aurangzeb Khan hailing from Peshawar.

"We live in Rawalpindi and visit our home town on and off but we cannot afford to cut off ourselves from our moral and cultural values that give us identity," she added.

Sheena Gul, 81-year old mother-in-law of Shazia said: "The traditional burqa is our licence to women's free movement and a principle obligation bestowed by our ancestors to keep us safe from society's leering eyes. My eyesight is weak and I am too old to wear a shuttlecock but we cannot allow our young girls and women to quit this practice."

Samreena Khan, a student of intermediate in Govt Degree Women College Rawalpindi said she wears the burqa without any qualms.

"I used to wear a gown with a scarf at school, but when I started college my father asked me to wear the traditional Pashtun burqa. It was hard to adopt this change, because my friends belonging to other communities mocked me and called me a Burqa Avenger (an animated cartoon character), Samreena said.

"But I don't mind the burqa or the mocking at all in view of the fact that I am obeying my father and carrying my Pashtun culture along with me," she proudly claimed.

Hina khan another Pashtun student from Swat Valley living with her family in Rawalpindi said: "Honestly I don't feel comfortable wearing it, but I have no option as I have to continue my education on terms set by parents and follow their instruction."

A seraiki woman from Mianwali, Yasmeen Akram said she wears it when in her hometown where the tradition is followed strictly. "It is so convenient to be dressed in it, no pins and strings to hold its pieces together like other prevailing burqas," she remarked with satisfaction. No make-up no new clothing is required under this veil. "I wear it as my husband appreciates me for putting it on as well."

CEO asked to step down after software firm forced employee to resign for wearing hijab

Dr Shaheena Niazi from Isakhel said she was completely comfortable and confident in the traditional veil. "I proudly say that I have completed my Phd and pursuing my professional career in this shuttlecock."

Dr Niazi said there was no pressure from her family to wear the traditional burqa. "My family never pushed me to wear it instead I personally like to keep my cultural values alive because I grew up seeing my mother and aunts wearing it and I am proud to disclose that my children also love to see me in it and my daughters are ready to adopt when they become teenagers," she said.

These traditional burqas has seen no modification over the centuries, but now a variety of colours and embroideries were available which was a rare phenomenon in past, said Shahid Arrain a shopkeeper in Mianwali city market. He said prices range from Rs1,300 to Rs3,000 depending on stuff and quality of stitching. But surprisingly, he told, it can cost you up to Rs10,000 for a special version.

Published in The Express Tribune, October 29th, 2018.