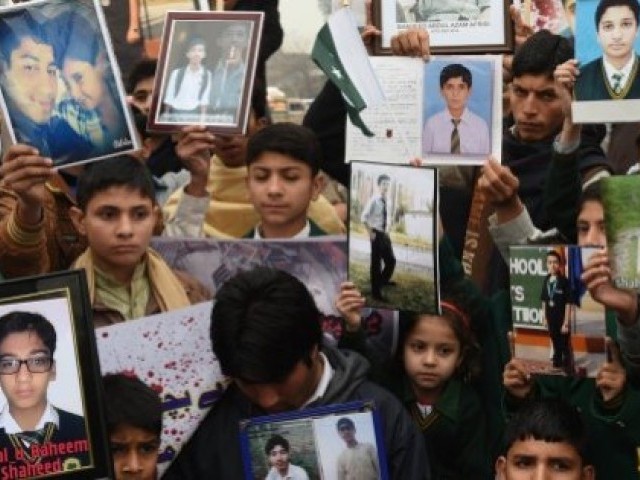 ---
PESHAWAR: Following directives from the top court, over 100 families of Army Public School (APS) attack victims, social activists and eyewitnesses have registered themselves with and recorded their statements to a judicial commission formed to probe the attacks.

The commission, headed by Justice Muhammad Ibrahim Khan, has been set up on the directions of Chief Justice of Pakistan Mian Saqib Nisar on the request of the families of APS attack victims.

Meanwhile, the Peshawar High Court (PHC) has included three more districts and session judges in the commission to work as the secretary, registrar and as a focal person of the commission.

Parents protest at Army Public School in Peshawar against 'sluggish investigation'

The commission has a 45-day deadline to submit a performance report.  So far, 20 days have passed since the court issued that order with little to no visible progress..

Earlier, the commission had circulated a notification in newspapers urging members of the public to step forward and help arrest those responsible for the attack.

Members of the public, families of APS' martyrs and eyewitness have also registered themselves with the secretary of the commission. The commission is expected to start the process of hearing and registering witnesses from Monday, October 29.

The commission is expected to hear at least ten witnesses or family of APS martyrs per day.

One of the deadliest terrorist attacks in Pakistan's history took place On December 16, 2014, when around 10 terrorists stormed the APS and killed around 140 people, mostly students.

Families of victims have been demanding a judicial commission to probe the tragedy for a while. However, their request was only granted in May 2018, when CJP Nisar was hearing human rights cases in the Peshawar registry of the apex court.

Families of APS victims appeared in the courtroom and asked the CJP to fulfil their demand.

Parents of APS victims want TTP spokesperson to stand trial

Despite the CJP's orders, the concerned officials did not move to form a commission in this regards.

But the application against the delay was only filed on, however, it was on October 5, when the families filed an application against the delay in forming the commission.

The chief justice had further ordered that along with investigation officers, the commission should also the victims' relatives and address their concerns. The commission will start hearing the APS victim families from Monday.

Published in The Express Tribune, October 27th, 2018.