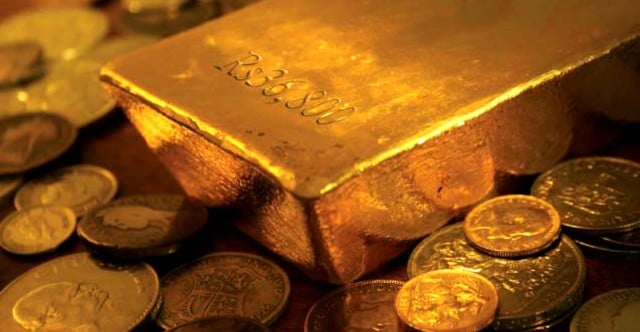 ---
KARACHI: Gold prices peaked at Rs 33,128 per ten grams in the local bullion market on Wednesday.

However, the precious yellow metal remained undervalued by Rs600 in comparison to international prices.

President of All Sindh Sarraf Jewellers Association Haroon Rashid Chand said that the lack of purchasing power and interest of the local consumers had led to gold remaining unresponsive to the international record high on Wednesday.

Gold was Rs 38,650 per tola (11.7 grams) the same day. The prices remained unchanged from a day earlier, which Chand said was not a good sign.

"Unresponsive gold rates in the local market clearly highlight how disconnected our bullion's demand has become in comparison to the international demand" he said.

He added that the weakening rupee had added to the worries of the gold investors and dealers alike.

"If people purchase gold in significant numbers, then the gold values are likely to reach record highs. While the rising price is not good news for any consumer, it at least reflects a healthy trading market. We are facing nothing less than crisis situation" he added.

The gold expert predicted the international rates to reach $1,233 to $1,235 an ounce before declining once the bubble bursts. In the international bullion market, gold was valued at $1,222 an ounce due to the continuing economic uncertainty in the eurozone.

The website goldcore.com listed geopolitical risks in the Koreas and in the Middle East, the macroeconomic risks posed by the continuing sovereign debt crisis, concerns about the euro and growing concerns about a double dip recession as some of the other major reasons which helped in the inclination of the yellow metal values.

Published in the Express Tribune, June 3rd, 2010.
COMMENTS
Comments are moderated and generally will be posted if they are on-topic and not abusive.
For more information, please see our Comments FAQ