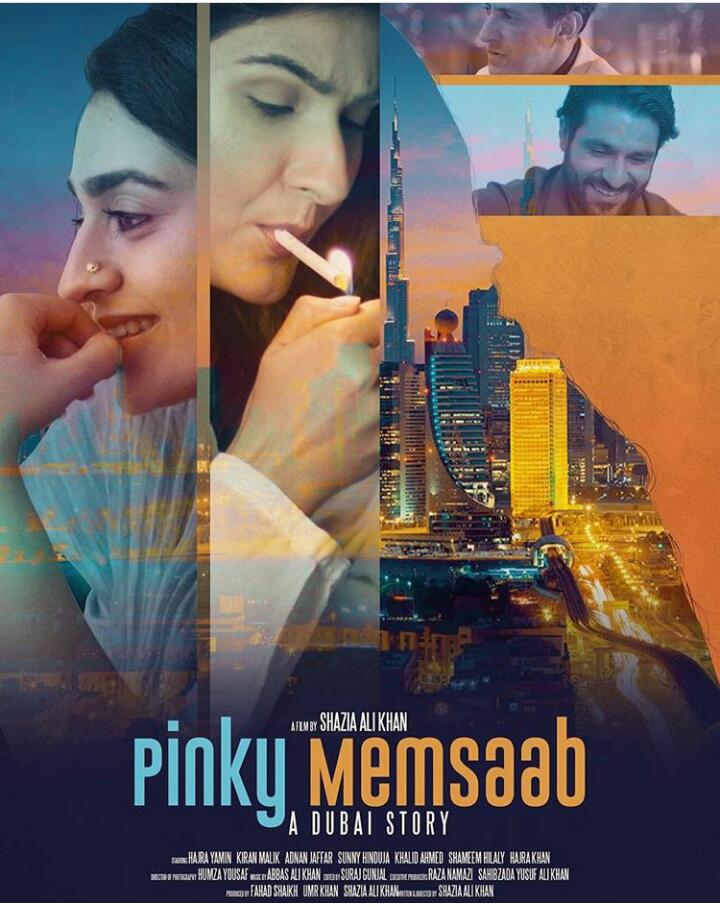 ---
KARACHI: Pinky Memsaab aims to tell the story of multiple worlds colliding in Dubai. The trailer launched earlier this week and we're fairly intrigued by what the story will be. The Express Tribune caught up with its cast and crew to talk about what more we can expect from the film.




The Express Tribune (ET): What is unique about 'Pinky Memsaab'?



Adnan Jaffer (AJ): Depiction of life for most people in Dubai, or for that matter anywhere else is what is different about the film. Characters will resonate with people from all strata. The film is about dealing with curve balls life throws at us with all its antagonism. The protagonists go through a ride of self-discovery. Audiences will want to root for so many characters.

Actor Hajra Yamin (HY): Simply put, strong female characters. The director Shazia Ali Khan encouraged us to push ourselves and think out of the box.

Actor Kiran Malik (KM): What's incredibly unique about this film is that it shows dreams are possible and anything is achievable with perseverance and dedication.




Actor Sunny Hinduja (SH): This story depicts the life of Dubai so precisely, it is almost surreal. Sometimes you feel like this could have

actually happened to me or someone I know. My parents have been in Dubai for the last 25 years, so I know how relatable this is.

Director Shazia Ali Khan (SK): This film is brave enough to follow the vision that the core team had regardless of how it would do commercially. This is an honest film. It doesn't subject itself to other peoples' opinions. If it does pull a few heart strings, it means we have done our job well.

ET: Hajra, you've been consistently taken as the second lead on the small screen. This is your second film actor role. How did you prepare for it?






HY: I believe there are no leading characters in any film. There are only strong characters. We have a strange insistence in the industry to focus on who the leading actors are, even though, a strong supporting character could very well make the movie. It's more about the impression the character leaves behind and for me this is what has always driven me towards the big or small roles I've done in the past.

Of course, I'm very anxious. There's a lot of responsibility with taking on a role of this magnitude, to ensure people only see Pinky in the film and no trace of Hajra. Luckily Shazia has been very supportive and accommodating throughout the process. I also did a lot of extensive research in Pakistan, visiting the village Pinky was from, speaking with the locals and trying to get a grasp of the way they thought, moved and of course, talked. I also did a lot of work on figuring out her character, body language, backstory and way of speaking.

ET: Sunny, what was it like to work with a Pakistani team on a Pakistani film?




SH: It was a great experience. I never felt like we were in any way different from one another. It never really mattered whether we were Indian or Pakistani. You realise how the Indo-Pak politics doesn't really come through when it comes to the film industry. We are one. I didn't experience an ounce of political difference in the making of this film. What I did experience was a lot of love, understanding and compassion.

ET: What have been some of the memorable moments?

SH: After packing up, we would go for dinners and chill. We all had a great time and worked as a unit. The day's exhaustion would just disappear as we used to look forward to hanging out after shooting.

I also enjoyed having conversations with Hajra. We would talk about our backgrounds and there was so much in common. It was amazing to see how all of us were so similar

AJ: Honestly, lighter and fun moments were quite rare considering the serious narrative but there were quite a lot of fun characters on the production side. Rave music was always welcomed to unwind between takes.




ET: What kind of audience are you expecting to target with 'Pinky Memsaab'? What do you hope to be their biggest takeaway? 

HY: I think this film lends itself to multiple audiences, but most importantly, it should attract a crowd from all walks of life. When it comes to Pinky, I want theatregoers to subvert their image of people from small villages. Just because Pinky comes from a small village doesn't mean she doesn't have goals, dreams and aspirations like anyone else. With Meher (Kiran), like they say, 'You shouldn't judge a book by its cover'. Her character may seem covetous on the outside, but she too is only human and has her fair share of problems and insecurities.

AJ: The film shows that relationships overpower everything and open communication is extremely necessary, especially in marriages. "Use things but love people. Don't love things and use people." I heard this in a TED Talk. It's an important theme in this film. As for my takeaway, I would have had major regrets not being in this film. The two leading ladies could definitely do with a gentleman like me amongst them (laughs). Meeting great individuals and hearing their stories helped me get into my role with ease.

KM: I learnt a lot from this film. One of my key takeaways is how to face a storm when you know it's coming your way. Considering it is a small budget film, this is Shazia's directing debut and we still completed it well within our timeline. For me this film is real and relatable to everyone when it comes to Meher. I can relate to the film and this is the main reason I did it. Every character is identifiable. Anyone who watches this film will see a part of them in it.




SK: During my time at a writing course, someone told me that there are no unique stories. There are about 10 to 12 stories rewritten and restyled since the beginning of time. The setting and treatment is unique, but the story is just based on human relationships, love, lust, money, broken hearts and damaged relationships. Last but not the least, the so-called mantra of the narrative is to not judge a book by its cover; just because a person looks a certain way it's not nice to stereotype them. The treatment of the film is realistic for this very reason.

Producer Umr Khan: Producing a film like this with such a vibrant cast, crew and earthy story in Dubai is like crafting an art piece in a corporate system. Where the cinema industry of Pakistan is on the verge of defining its shape, we tried to give some hands for making this right. The story, script, screenplay and the director's vision were pretty clear and resonating without making any claims to be super-hit.

Producer Fahad Sheikh: It made Umr and I say yes in the first go. The journey of us with this film is a humble beginning culminated with tons of expectations from our audiences and industry insiders.

Pinky Memsaab will release on December 7 in Pakistan.

Have something to add to the story? Share it in the comments below.
COMMENTS
Comments are moderated and generally will be posted if they are on-topic and not abusive.
For more information, please see our Comments FAQ