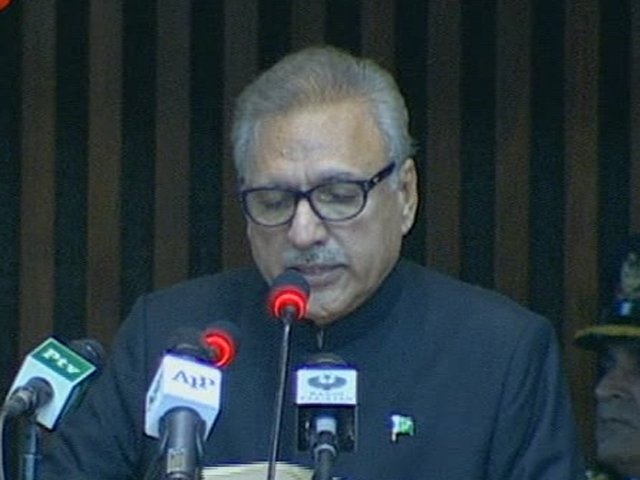 ---
ISLAMABAD: President Dr Arif Alvi has urged the Foreign Office and the concerned stakeholders to engage in 'a constructive dialogue' with India to achieve bilateral and multilateral arrangements on trans-boundary water matters.

"Pakistan should also make efforts towards safeguarding our 'Water Rights'. Issue(s) pertaining to the Indus Water Treaty (IWT) is one such example. This would require meticulous thinking on our part and engaging with our neighbours to avoid potential conflicts in the future," said Dr Alvi on Friday.

The president was addressing a two-day International Symposium on 'Creating a Water-Secure Pakistan' held at the Supreme Court premises. He said about 2 million drought-ridden and impoverished residents of Tharparkar and Cholistan amplified the human side of the problem.

He said the concerns of different stakeholder should be addressed at the institutional level and also in parliament. He called IRSA Water Accord of 1991 a good example in this regard.

Dam opponents are traitors: CJP

Dr Alvi said the real issue is lack of trust among the provinces, and measures should be taken to end it. "We as a nation need to think beyond local and parochial interests. We need to think for our country. Pakistan comes first. We need to build a general consensus and a feeling of mutual trust," he added.

According to the president, Tharparkar represents one of the worst-hit regions of the country, where because of poor water management thousands of children have also lost their lives.

"The situation in Tharparkar is a case in example of how bleak the things may become in other parts of the country in case adequate water management measures are not adopted. In order to improve the ground water levels and recharge our aquifers, we need to build more delay action dams," he said.

The president said Pakistan's water storage capacity is limited to only 30 days, which is reducing with time due to sedimentation. In case new water reservoirs are not constructed, the irrigation supplies would reduce substantially to the level which Pakistan had in 60s when there were no reservoirs.

"This situation would create serious water conflicts in society which can only be addressed by taking timely action. There is a need for building large water reservoirs," he added.

He said the other area of concern is power generation which serves as a lifeline to the industrial sector. He noted an ever-widening gap between demand and supply of power generation, and said this energy shortfall is seriously hampering the industrial growth.

"As a result, our GDP has been stunted while foreign reserves have depleted. The power generation sector is badly plagued with circular debt and one of the reasons for this is our over reliance on thermal rather than hydel means of power production.

"According to the National Electric Power Regulatory Authority's (Nepra) 2015 State of Industry report, Pakistan has the potential of generating 40,000 megawatts of hydro power. The need of the hour is to shift to efficient and cost-effective means of power generation," he said.

Chief Justice of Pakistan Mian Saqib Nisar – who has also established a fund for construction of Diamer-Bhasha and Mohmand dams – said it is 'a criminal negligence' that no new dams was constructed in the last 40 years.

PM Imran's bid to crowdfund $14 billion for crucial dams

"The Supreme Court, as one of the three pillars of the state, is under a duty to serve the country and its people. The greatest duty that a government owes to its people is the duty to protect their right to life as contained in Article 9 of our Constitution and in various International Covenants," he said.

The CJP said many states interpret this as a duty to invest in their military, to expand law-enforcement presence, and enter into arms agreements. "And while they are, without a doubt steps that could ensure security of the citizens, the threat often comes from deprivation of the most basic sources," he added.

"In this case, the source is water. It has long been established that water is essential for the existence of life. A dire water shortage has led to the recognition of a right to water itself … can there be any life at all without water? The significance of water encompasses all, and so does the problem of water scarcity, both nationally and globally," he added.

Water and Power Development Authority (Wapda) Chairman Muzammil Hussain said construction work on Diamer-Bhasha and Mohmand dams is set to start soon. He said the CJP's intervention in the issue is a turning point in the country's history. "We are entering an era of progress and stability," he added.