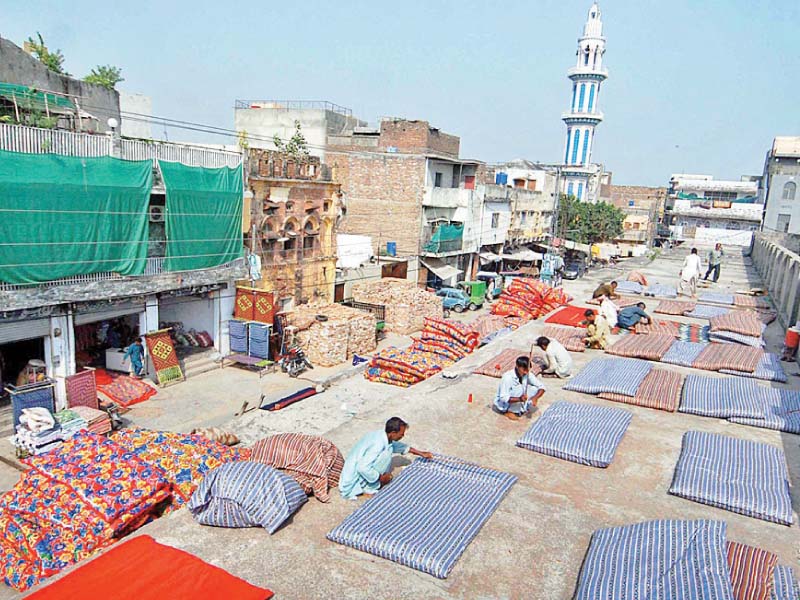 ---
ISLAMABAD: With the advent of winter season, the demand for woolies or warm clothing increases manifold especially in the central and northern areas of the country where the mercury dips considerably lower than the southern areas.

Winter nights are quite chilly and to keep themselves warm while sleeping people  rush to shops to buy quilts and blankets

The business of making hand woven woven quilts is an age old tradition in the country and come winter the quilt-makers in the country become busy in their trade.

Similarly in the federal capital there are many areas where this small industry flourishes and quilt-makers work overtime to meet the demands of customers.

Quilt makers are seen busy in stitching hand-made quilts on the rooftops of their workplace for customers in the capital as in the peak of winter quilts sell like hotcakes.

End of season sales: Summer wear on clearance

People tend not only to buy new quilts but many take out their old worn quilts to give them a makeover keeping the makers busy and the trade flourishing in the capital as well as its twin city the garrison town of Rawalpindi.

According to quilt makers, they become busy in stitching quilts from morning till midnight due to considerable increase in demand. Quilt is an additional item besides their regular products of pillows and mattresses .

Quilts are to be found in every shade and colour suitable for all age groups from children to the elderly.

A large numbers of customers could be seen buying quilts and blankets from shops at Sitara Market, Aabpara, Karachi Company, Peshawar Mor and Commercial Market.

A quilt maker Syed Jabbar said his shop is one of the oldest in town, and was opened by his grandfather over 60 years ago. He explained that most people bought quilts for guests and domestic employees, as well as for dowries. "Most people use other warm bedding for themselves," he added.




He said his shop also made pillows and mattresses, adding: "People also order fancy quilts with various stitching patterns."

Another worker said that a cotton quilt can be used for more than 30 years, but the cotton filling needs to be washed and cleaned every three years.

A female customer Sadia Azaz in Sitara market, said: "A traditional quilt is made for a lifetime. Before winter starts, women [of the house] wash the quilt covers and hand them over to the quilt maker to run it in a small ginning machine." Unlike the ones used in factories, the gin machines in shops only clean and separate cotton making it free of dust and fluffy again before re-stitching it in the quilt, Azaz explained.

Amina Khalid another customer added that cotton products were warmer than polyester ones, saying that people also prefer to call workers to their homes Blankets have somewhat sidelined quilts. Still there are many out there who cannot get used to blankets and feel comfortable using quilts during winter. They insist that a blanket can never be as warm as a quilt.

But practical people argue that it is far easier to clean blankets as they can be dry-cleaned. As for quilts, well, the process can be compared to surgery! In fact, it is better to get a new quilt instead of washing it. You cannot wash a quilt as the stuffing inside cannot take it. The entire quilt needs to be opened up and the stuffing, which is usually cotton wool, has to be cleaned with the cover washed separately following which everything has to be stitched up all over again.

High-quality cotton, all locally grown, for the stuffing. / Photos by Fahim Siddiqi / White Star

Some people make separate covers for quilts, like duvet covers, to prevent the quilt itself from gathering dust. This way they only need to wash the covering.

"Pakistan grows [some of] the world's best cotton. There is no shortage of cotton here so it is available at a reasonable cost as well," says Mohammad Anwer, a quilt shop owner. Apart from selling quilts, he also has big fat cotton pillows and bolster cushions.

Abdul Sattar has been making quilts for 30 years now. The quilt makers here keep a variety of cotton to use for stuffing quilts. Of these, pure cotton happens to be the most popular. It is available at market rates almost near those announced by the Pakistan Cotton Ginners Association. These days, quilt shops also have synthetic fibre wool and polyester fibre along with several other stuffing choices. "But since cotton is natural, it is usually the first choice," Anwer points out.

The process begins in a cotton gin or machine where the fibres can be separated and cleaned. After weighing the cotton wool, the already stitched from three sides covers are filled with it following which the fourth side is also sealed.

No possibility of tropical cyclone at Pakistan's coastal belt: Met office

Then comes the beating. The quilt is laid on a flat surface and a stick is used to beat it in order to settle the stuffing inside. Once it is even, the quilting stitches help everything stay in place.

Abdul Sattar has been making quilts for 30 years now. Today he is busy putting the stitches on a maroon velvet quilt. He uses a sturdy, long needle to do so. "The material for this quilt was given to us. So not everyone buys our readymade quilts," he says as he makes the measured stitches.

Those who have quilts made on order can also decide on how much cotton they want stuffed in their quilts. "It is usually between three and five kilograms," says Sattar. "It can also be single-bed or double-bed size," he adds.because shopkeepers switched the original cotton with lower quality material.

Hashim Obaid a worker said "our business is going very well though it is the start but it would gain more momentum with rains."

Vendors with blankets on their shoulders or bicycles are also seen selling this commodity in the streets and bazaars.

Published in The Express Tribune, October 18th, 2018.