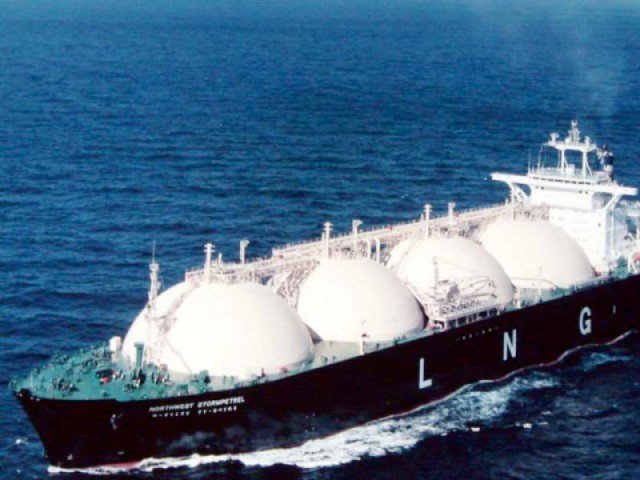 ---
ISLAMABAD: The Pakistan Tehreek-e-Insaf (PTI) government has decided to amend agreements related to the liquefied natural gas (LNG) terminals set up during tenure of the previous Pakistan Muslim League-Nawaz (PML-N) government following allegations of a higher rate of return for investors.

Officials told The Express Tribune that the issue was taken up in a recent meeting of the Economic Coordination Committee (ECC) for a review of the agreements signed with LNG terminal operators.

Officials of the Ministry of Energy (Petroleum Division) informed meeting participants that the rate of equity and investment for the first LNG terminal was 15% while the rate of investment for the second terminal was 15.4%.

Economic managers noted that the LNG terminal operators were getting a higher rate of return on their investments. They said it was essential to review and revisit the LNG terminal agreements to explore the possibility of amendment and revision.

Pakistan can import 9m tons of LNG per annum

The ECC directed the Petroleum Division to seek legal opinion from the Law and Justice Division on the LNG terminal agreements to find out whether the government had any option to revisit the terms and conditions.

The committee also directed the Oil and Gas Regulatory Authority (Ogra) and the Petroleum Division to present details of equity and rate of return on equity and investment related to both the LNG terminals for further consideration of the ECC.

Officials of the Petroleum Division informed the meeting that the first LNG terminal was a brownfield project. The government, through the Inter State Gas Systems (ISGS), had floated open tenders for the terminal in August 2013.

In absence of LNG, plants may produce expensive electricity

Elengy Terminal Pakistan Limited (ETPL) won the bidding, which was concluded in accordance with Public Procurement Regulatory Authority (PPRA) rules.

An open international bidding process was adopted by ISGS and the bidder with the lowest re-gasification cost was selected. Bids were evaluated by international consultant QED, hired by USAID.

LNG Services Agreement was signed with Sui Southern Gas Company on April 30, 2014 for 15 years. The cost of the project was $120 million excluding the Floating Storage and Re-gasification Unit (FSRU).

Regarding the second LNG terminal, the Petroleum Division apprised the ECC that the terminal was a greenfield project. The government - through Pakistan LNG Terminal Limited (PLTL) - floated an open and competitive tender for its establishment in 2015. PGP Consortium won the bid for the project.

The ministry said the second terminal was awarded on build, own, operate (BOO) basis and was based on the commodity/tariff bidding model rather than the IPP cost-plus model.

In the bidding, the bidder with lower re-gasification cost was selected. Rates were evaluated by consultant Galway International of Singapore.

Published in The Express Tribune, October 16th, 2018.

Like Business on Facebook, follow @TribuneBiz on Twitter to stay informed and join in the conversation.