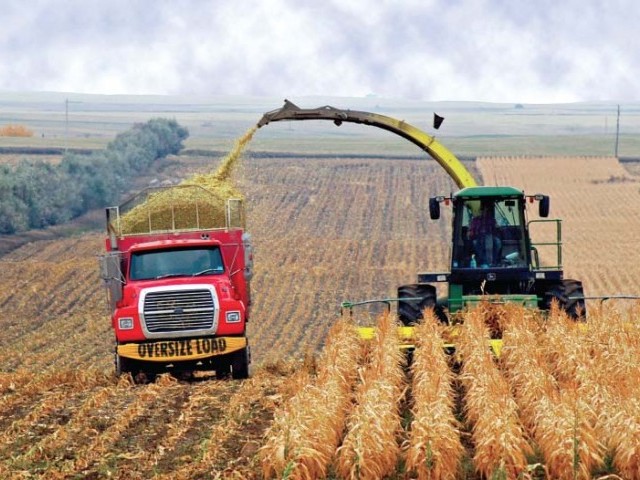 ---
ISLAMABAD: With biofuels replacing non-renewable energy sources including petroleum products, coal, etc, the creation of biofuel feedstock from forest and agriculture has been considered as a long-term source of energy.

The shift to biofuels and further research and development work remains a subject matter that is indeed linked to factors like increase in oil costs alongside growing concern over carbon dioxide discharge, environmental degradation, global warming and climate change.

Carbon dioxide/greenhouse gas emissions, generated from the burning of fossil fuels, are increasing in Third World societies like Pakistan.

Govt asked to switch to renewable energy

IPCC report, which analysed the regional impact of climate change, declared that Pakistan, in specific, is estimated to have raised carbon emissions from 76 million tons in 1990 to 200 million tons in 2006. Here, the transport sector remains a significant contributor to greenhouse gas emissions. It is expected to discharge 30 million tons of carbon dioxide by 2020.

Other than air quality degradation and depletion of the outer most layer of the Earth, the extensive consumption of non-sustainable energy sources cannot be sustained due to their limited availability.

To negate the negative atmospheric results of non-renewable energy sources, global and regional societies have to look for infinite and less harmful energy sources, like biofuel and importantly, to facilitate the transport sector in restricting carbon emissions.

In the above context, biofuels are gaining popularity. Biofuels are extracted from living plants and animals or from metabolic byproducts, such as biowaste. It is inexhaustible, cleaner consuming substance, which is safe to deal with and can be transported easily with reduced outflow of dangerous substances. The three widely used biofuels are ethanol, biodiesel and biogas.

Global biofuel trends

In Asia, Malaysian and Indonesian biofuels industry presently command the generation. They are major worldwide exporters, covering a huge part of global trade.

Similarly, biofuel is used to meet a variety of energy needs in Turkey, including generating electricity, heating homes, fuelling vehicles and providing heat for industrial facilities. Traditional biomass (wood and dung) in Turkey produces a significant quantity of energy besides contributing to reduction in environmental pollution.

Latin America, the Middle East and Africa also witness development and growth with the application of biofuel in their modern manufacturing sites. It is because of the industrial usefulness and environmental protection, the global trend towards biofuels is urging the global nations.

Germany to help Pakistan increase renewable energy share

Biofuel in Pakistan and national energy security

Since long, Pakistan's economy has experienced incremental shortages in fuel, so the deficit is overcome by imports. Yet, as a long-term solution, it is important to increase national-level power generation through alternative energy sources.

As an agricultural economy, there are huge prospects of producing power from ethanol, following the Brazilian model. Biofuel is an ecological-friendly fuel and an assessment done by the Ministry of Agriculture demonstrates the capability of producing biofuel, most importantly by the sugarcane industry.

Here, again the potential energy generation from biofuel could not be completely recognised in light of the fact that sugarcane yield remains below the global average.

According to some estimates, the production of sugarcane was 43.6 million tons in 2000-01, which rose to 49.4 million tons in 2009-10. Around 80-90% of the sugarcane production goes to the sugar industry. The rest is converted into Gur (or jaggery). Cane crushing produces sugar and molasses as side products. Molasses are converted into biofuel. Molasses-to-bioethanol transformation process is directed in refineries.

In order to meet the clean energy demand, Pakistan has designed its first biogas plant in light of the imported Chinese design. Pakistan Council of Renewable Energy Technologies adopted biogas technology and installed 21 family-measure units.

However, due to multiple reasons like absence of craftsmanship, gas pressure factors, spillage and hurdles in the way of good execution of the gas delivered through fermentation procedure, the council suspended the programme.

On the other side, India introduced the programme with few modifications, which was suitable to local conditions, and successfully managed 1,200 family-size biogas plants. A project of installing 2,500 biogas plants was launched in 2007 in India and the subsidy component was Rs17,000 per plant.

Returning to the point, regardless of the financial constraints in the energy sector of Pakistan, 2,000 biogas plants have been installed successfully in previous years and work on 500 more plants is under way.

Initially, the biogas units were built for cooking and home-use purposes. Biogas production can be enhanced with the help of animal dung which can run 3.825 million small biogas units for feeding 50 million people.

Substituting gasoline with bioethanol could result in considerable foreign exchange savings, importantly under the government's initiative to subsidise biofuel production through exemption from customs duty. As a consequence, the biodiesel refinery has been built in Karachi, which is capable of processing 18,000 tons of biofuels per year.

Nevertheless, for sustained supply of cleaner energy from biofuels, there is a dire need to cultivate crops and cover the unused land with grass to meet the national energy demand. Also, there is an immediate need for a comprehensive national policy that should be well incorporated into regional policies and plans to support cleaner energy projects.

There is also a dire need for legislation for exemption from customs duty, sales tax and income tax on imported plants, machine innovation and hardware for sustainable power generation projects. As a special focus, the technology, apparatus and particular objects used in the production of biodiesel have been exempted from taxes.

All such measures can bridge the gap between cleaner energy production and demand, if they are viewed as a fundamental piece of the energy blend.

Umer Khayyam serves as assistant professor and Tehzeeb Bano is a post-graduate student at the Department of Development Studies, School of Social Sciences and Humanities, NUST Islamabad





Published in The Express Tribune, October 15th, 2018.

Like Business on Facebook, follow @TribuneBiz on Twitter to stay informed and join in the conversation.