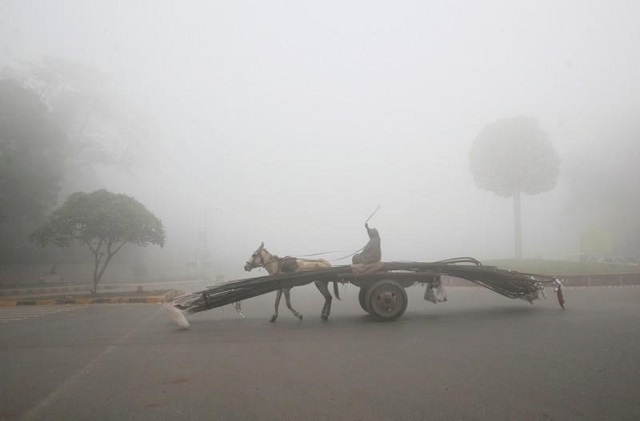 ---
MULTAN: During smog season
Experts urge citizens to follow traffic rules
Smog can affect visibility, human health and crops



MULTAN

People must take precautionary measures and follow traffic rules during smog season.

They expressed these views by speakers and experts on Saturday at a seminar on smog. The session was organised by Nishtar Hospital, in collaboration with motorway police, and the department of environmental sciences at Bahauddin Zakarriya University.

Experts said that smog is a kind of air pollution which was originally named after smoke and fog mixed in the air. It affects visibility, human health and crops. The phenomenon has been observed in the country for the past few years, they added.

Nishtar Medical Institute Vice Chancellor Dr Mustafa Kamal Pasha stressed the fact that citizens need to take special care, especially during smog season. He urged them to follow traffic rules in order to avoid accidents.

Head of Pulmonology Dr Azam Mushtaq stated that citizens should restrict their outdoor movements and should concentrate on breathing through their nose during the smog season. Similarly, people should exercise indoors instead of exercising outdoors.

Elaborating on health hazards, he added that smog can cause irritation in the eyes and the nose as it dries out the protective membranes and interferes with the body's ability to fight infections.

He added that ground-level ozone, sulphur dioxide, nitrogen dioxide and carbon dioxide are especially harmful for senior citizens, children and people with heart and lung conditions such as emphysema, bronchitis and asthma. It can inflame breathing passages, decrease the lung's working capacity, cause shortness of breath, pain when inhaling deeply, wheezing and coughing, Mushtaq explained.

Motorway police officials Asghar Shahid and Gulzaar Hussain said that citizens should avoid travelling unnecessarily during smog season. Drivers should also attach dense fog lights on to their vehicles, they maintained.

They also advised citizens to maintain vehicles at a greater distance from each other during smog season.