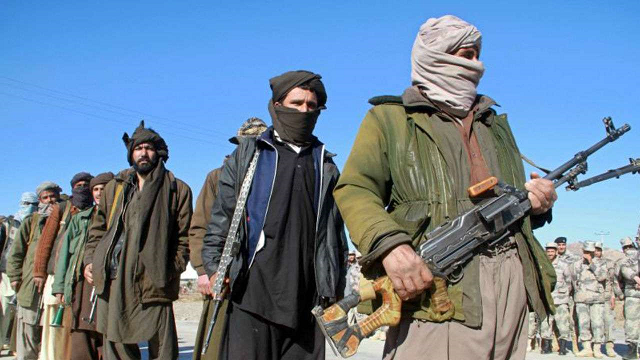 ---
KABUL: Taliban leaders will continue to meet for discussions with the newly appointed US special envoy for peace efforts in Afghanistan, the Taliban said on Saturday, a move that could accelerate diplomatic engagement between the warring sides.

Zalmay Khalilzad, an Afghan-born US diplomat, met with Taliban leaders in Qatar on Friday in an effort to find a way to end the 17-year-old war in Afghanistan.

"Both sides spoke (about) an end to the occupation and a peaceful solution to the Afghan issue ... Both sides agreed to continue meeting in the future," Taliban spokesperson Zabiullah Mujahid said in a statement.

Khalilzad arrived in Kabul on Saturday and briefed Afghan President Ashraf Ghani about his 10-day tour of four countries, which ended with the meeting with leaders of the hardline militant group.

A senior member of the Taliban said Khalilzad had asked the Taliban leadership, based in the Qatari capital Doha, to declare a ceasefire in Afghanistan during upcoming parliamentary polls.

Afghan Taliban likely to seek Anas Haqqani's release at peace talks with US

"Both sides discuss prospects of peace and the US presence in Afghanistan," said another Taliban official, requesting anonymity.

In exchange, the Taliban wants the Afghan government to release its fighters from jails across the country and the swift removal of foreign forces fighting alongside Afghan soldiers.

US officials in Kabul were not immediately available to comment on Khalilzad's visit.

Khalilzad was appointed as US Special Representative for Afghanistan Reconciliation last month, as President Donald Trump's administration launched fresh efforts to hold peace talks with the Taliban.

A senior official working with the Afghan president said Khalilzad had briefed Ghani about his meetings with senior ministers and top diplomats in four countries who could play a key role in peace talks with the Taliban.

Afghan Taliban, US officials 'engaging in indirect talks'

Khalilzad's trip started in Afghanistan and he travelled to Pakistan, the United Arab Emirates, Saudi Arabia and Qatar before returning to Kabul.

Western and Asian diplomats in Kabul said Khalilzad, 67, has knowledge of the country's main languages, culture and politics that could help him engage with all stakeholders in the peace process.

"The Trump administration and Ghani's government are now banking on Khalilzad to find a diplomatic way to end the war with the Taliban," said a top Western diplomat in Kabul.

Political analysts in Kabul said both sides will have to make concessions for the talks to succeed.

But continued fighting has raised questions about the viability of the US strategy to end the war, which for the past year has focused on forcing the militants to the negotiating table, largely via more air strikes.

Last week the Taliban demanded a complete withdrawal of foreign forces as the only solution to end the war that began with the 2001 ouster of the Taliban former government by US-led forces after it refused to hand over Osama bin Laden following the 9/11 attacks on the United States.

They have ramped up attacks in strategic provinces and have also directed Afghans to boycott parliamentary elections scheduled for Oct. 20.

At least 8,050 Afghan civilians were killed or wounded in the first nine months of 2018, almost half of them targeted by suicide bomb attacks and other improvised devices that may amount to war crimes, the United Nations said last week.
COMMENTS
Comments are moderated and generally will be posted if they are on-topic and not abusive.
For more information, please see our Comments FAQ