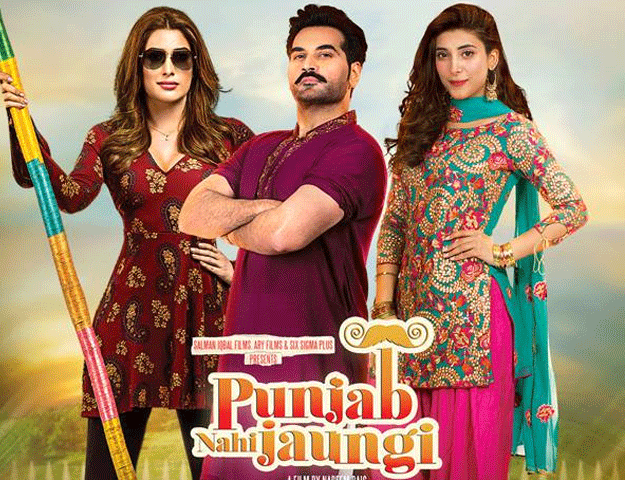 ---
KARACHI: With the release of Shoaib Mansoor's Khuda Kay Liye in 2007, officially began the revival of Pakistani cinema. Since then, multiple films have released every year.

While most of them have been substandard, some not even worthy of being played in theatres, local film-makers have delivered quality work every now and then.

Pakistan may not have found its proverbial cinematic identity yet but there have been some decent films which have at least put the industry on the right track.

Here is a list of the five best films, in no particular order, to have released since the revival began over a decade ago. Keep in mind, this list is not based on the box office performance of the films.

1. 'Punjab Nahi Jaungi' (2017)




A successful box office performance isn't always reflective of how good a film is. However, in this case, Punjab Nahi Jaungi deserved every bit of the recognition it received. The Humayun Saeed and Mehwish Hayat-starrer broke records to eventually become the highest grossing Pakistani film to date.

When we think of why it resonated with the audience, there is a legitimate argument in favour of star power, music, production values or the release date (Eid season is always a safe bet for film-makers). But all of it boils down to one thing: The film had strong storytelling and it packed a powerful message.

Director Nadeem Baig should be credited for not compromising his storytelling in favour of the message as some local film-makers often do. Coupled with nuanced performances by the cast, it etched a lasting impression and almost everyone including the people, critics and stakeholders went home happy.

2. 'Cake' (2018)




Asim Abbasi's directorial debut received rave reviews from local and international media. The Sanam Saeed, Aamina Sheikh and Adnan Malik-starrer is a very important film at this stage of Pakistani cinema for multiple reasons. Firstly, it did away with item numbers, which have lately become a trend to sell a movie. Plain and simple, it focused on a story and told it beautifully without relying on any gimmicks. It may very well be one of the best written films we have produced so far.

Another reason is that it served as a reminder for young and emerging film-makers that they can have a unique voice and a vision, and still be able to make a film in the country. With Cake, Abbasi brought something new to the table and variety is exactly what we need for the growth of Pakistani cinema.

3. 'Moor' (2015)




While the local audience didn't accept the film, Jami Mahmood's Moor released in 2015 to critical acclaim. The director tackled the issue of stolen railway tracks in an intriguing manner – keeping the essence of the story as well as adding some commercial value to it.

While some may argue against the hotchpotch screenplay, it was a beautifully shot film and had strong performances to carry it.

4. 'Dobara Phir Se' (2016)




I consider Mehreen Jabbar's 2016 romantic film Dobara Phir Se a massively underrated film. It boasted of memorable performances by the ensemble cast of Hareem Farooq, Ali Kazmi, Adeel Hussain, Tooba Siddiqui, and Sanam Saeed. Not only that, the slow pace of the story may not be everyone's cup of tea but it fit the narrative well.

The film dealt with family and relationships in its own unique way. And Jabbar's take on modern relationship and struggles that come with it, especially through the portrayal of a divorced Pakistani woman make it a strong addition to the list.

5. 'Khuda Kay Liye' (2007)




Mansoor's film only makes it to the list because it was the catalyst to the so-called revival. If it weren't for the industry veteran's effort, we never know when this process of revival would have kicked off. Of course, the film comes packed with flaws but its strengths overshadow them all, at least in the retrospective.

Khuda Kay Liye is undoubtedly a very essential film for Pakistani cinema. With a meaningful story that reflected on the socio-political landscape and its consequences on individual lives, it featured brilliant performances, especially by Shaan Shahid. Therefore, it becomes a must-watch for all Pakistani cinema followers.

A special mention goes to two of actor Fahad Mustafa's films: Mah-e-Mir (directed by Anjum Shahzad) and Actor in Law (directed by Nabeel Qureshi).

Have something to add to the story? Share it in the comments below. 
COMMENTS (9)
Comments are moderated and generally will be posted if they are on-topic and not abusive.
For more information, please see our Comments FAQ