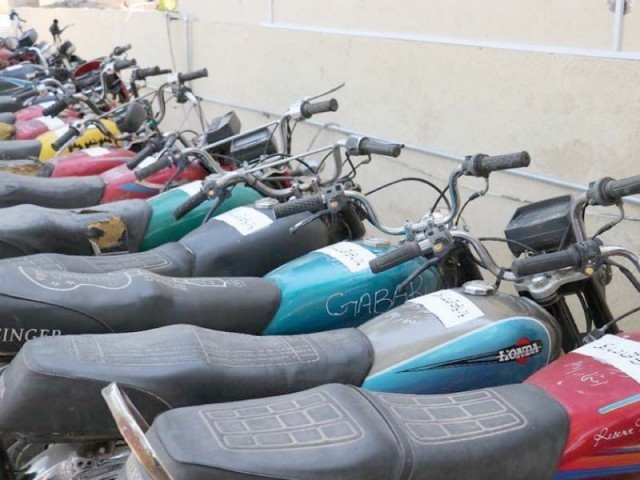 ---
ISLAMABAD: Over the past 10 days, the Saddar Zone of the capital police has arrested at least six suspected motorbike thieves from different areas of the city while officials claimed to have recovered 13 stolen motorbikes from their possession, a police spokesperson said on Sunday.

The official said that Operations-Senior Superintendent of Police (SSP) Syed Amin Bukhari had directed the Saddar Zone SP Umar Khan to track down those involved in street crime and theft of motorbikes.

GTA Islamabad: Seven held, two cars, three bikes recovered

SP Umer formed teams to track and arrest the suspected thieves.

During the crackdown, Ramna police arrested a suspected motorbike thief identified as Nasir and recovered eight stolen motorbikes from his hideout.

The Shalimar police arrested two suspected motorbike thieves, identified as Shahryar and Junaid. Officers claimed to have recovered four stolen motorbikes from their possession.

Over 500 people questioned but policewoman's rapist not found

Furthermore, squads from the Tarnol police station claimed to have arrested three bike lifters identified as Zeeshan, Asif and Bahadur. A stolen two-wheeler was recovered from their possession.

Further investigations are underway from these suspects and officials expect that they could recover even more stolen motorbikes from their possession after questioning.

Published in The Express Tribune, October 8th, 2018.