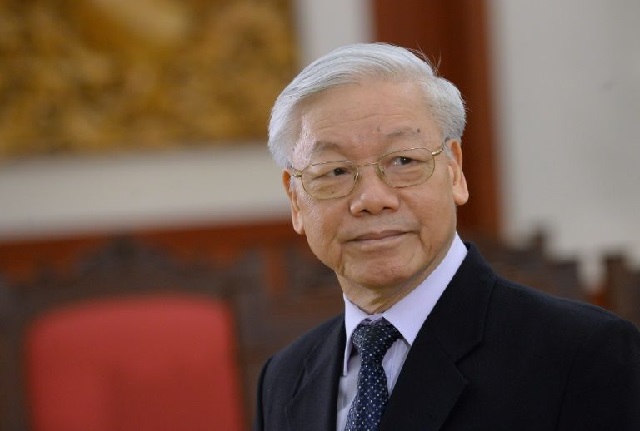 ---
Vietnam Communist Party chief Nguyen Phu Trong was nominated on Wednesday to become the country's president, effectively making him the most powerful person in a country where consensus leadership has traditionally kept strongman rule in check.

The two top posts have not been occupied by the same person in decades and will allow Trong, a conservative, long-serving communist apparatchik, to plough ahead with twin campaigns against corruption and dissent that he is seen as spearheading.

Trong was the only candidate nominated for president, and the role is expected to be approved by the rubber-stamp parliament which will meet for a month-long session on October 22.

"The Party Central Committee unanimously agreed on nominating Nguyen Phu Trong to the post of President," the party said on its website.

Hundreds pay tribute to Vietnam president at state funeral

Trong will replace Tran Dai Quang, who died after a long illness last month at age 61 after serving as president for two years.

Though the role of the president is largely ceremonial, Trong's election to the post will officially make him head-of-state in addition to remaining head of the party.

He will occupy two of the top spots in the so-called four "pillars" at the head of the country, which also includes Prime Minister and head of the National Assembly.

Trong will become the first person to hold the top posts of president and party leader simultaneously since Ho Chi Minh, the country's independence leader and Communist Party founder, did so in the 1960s.

Born in Hanoi in 1944, Trong has a carefully guarded reputation as a committed communist stalwart who has tactfully avoided public scandal, and became the first-ever Vietnamese communist party leader to visit the United States, meeting former US President Barack Obama at the White House in 2015.

The hardline leader has long been seen as shoring up power in his role as general secretary and party politics have taken a conservative turn since he was re-elected as party secretary in 2016.

With Trong already wielding a great deal of influence, analysts said the move is not likely to dramatically shake politics up in the one-party state.

"Trong for some time has had his way and this decision is more a reflection of the power that he has already amassed rather than necessarily a turning point," Vietnam expert Jonathon London told AFP.

Vietnamese President Tran Dai Quang dead at 61: state media

But the move eliminates potential opposition, London said, as Trong presses ahead with his war against corruption in one of Asia's most graft prone countries.

Scores of executives, bankers and top officials have been put behind bars as part of the campaign, seen in part as a genuine effort to clean government ranks.

But observers say it's also aimed at eliminating political foes.

Trong has vowed to forge ahead with the anti-graft drive at any cost.

"This is a very complicated and difficult fight, it has to be long-term and continuous... we have to be patient," he said at an anti-corruption meeting in August.

Rights groups have also accused his conservative government of waging a brutal crackdown on dissidents, with at least 100 behind bars, according to Amnesty International.

His new dual role is not likely to ruffle feathers among the Vietnamese public, most of whom feel little connection to the communist party, but some said his heightened power could make for a more effective government.

"Trong will be the most powerful man in Vietnam's history, after Ho Chi Minh and former party leader Le Duan," political law expert Tran Vu Hai told AFP.

"With that power, he can speed up what he wants and what the party wants".
COMMENTS
Comments are moderated and generally will be posted if they are on-topic and not abusive.
For more information, please see our Comments FAQ