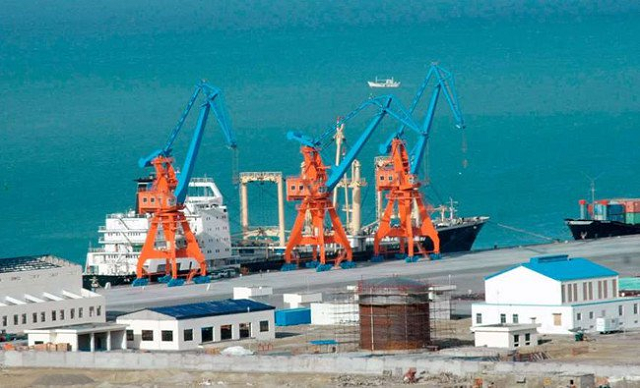 ---
In his first-ever foreign visit as the premier of Pakistan to Saudi Arabia, Prime Minister Imran Khan made an important proposal to the Kingdom's leadership to become part of the multi-billion-dollar China-Pakistan Economic Corridor (CPEC) project. This is a proposal which has many important aspects. First of all, if Saudi Arabia would become part of CPEC there would be more likelihood of its success in terms of increasing its stakeholders. Pakistan has asked Saudi Arabia primarily to establish an 'oil city' in Balochistan, preferably in the port city of Gwadar. In case Saudi Arabia agrees to the proposal it would be a game changer for the region as it is oil-deficient with the energy needs growing by leaps and bounds.

Federal postings to expedite CPEC

One of the main objectives of China behind the establishment of CPEC is to supply oil and gas from the Middle East and the Persian Gulf to its western regions, particularly Xinjiang. Once an 'oil city' is established with Saudi Arabia's economic assistance in Balochistan, the supply of oil to Pakistan and onwards to China could be greatly facilitated. As a by-product this 'oil city' would be instrumental in the economic development of Balochistan, which has been undergoing a low-intensity insurgency from certain armed ethnic separatists for nearly more than a decade now.

The employment opportunities which the 'oil city' would generate would most likely be capitalised on by the local young population and therein is the critical importance of the proposal for Pakistan. Cities and particularly those established on a certain productive industry serve as engines of growth and its societal benefits are numerous. Balochistan is an entirely rural population and has been in dire need of new cities. Unfortunately, successive Pakistani governments could not think along these lines and invest properly in urban development in Balochistan. Resultantly, the tribal and conservative character of the province, which has been the cause of many issues and conflicts, could not be changed.

Here an important question is that what Saudi Arabia would get by establishing an 'oil city' in Gwadar or any other part of Balochsitan in Pakistan? Riyadh has reportedly vowed to provide financial assistance to the Pakistan Tehreek-e-Insaf (PTI) government in Pakistan through the Islamic Investment Bank. Although there have been no financial assistance pledge(s) by Saudi Arabia to Pakistan during PM Imran Khan's visit. So if Riyadh really wants to provide financial assistance to PM Khan's government one of the best ways could be to invest in CPEC, particularly by contributing to the development of Balochistan. Noticeably, Balochistan is situated on Pakistan's border with Iran and the seaport of Gwadar is geographically only a stone's throw away from Iran.

Govt stance on CPEC same as Pakistan's enemies: Shehbaz

This situation would attract Saudi Arabia to invest in Balochistan because traditionally, particularly during Shah of Iran's era, Tehran has been opposed to the development of oil and gas sector in Balochistan fearing it could have come at its altar. Unfortunately, the late prime minister Zulfikar Ali Bhutto, who had personal association with Iran, furthered Iranian interest than that of Pakistan by denying oil and gas sector development to Balochsitan. One hopes Iran would not object to Pakistan's proposal to Saudi Arabia to establish an oil city in Balochistan, specifically Gwadar. Because on its part Iran opened its Chabahar port, located juxtaposed to Gwadar, to Pakistan's archrival India.

The PTI government is commendable for asking Saudi leadership to establish an 'oil city' in Balochistan because the previous government of the PML-N was primarily asking China to invest in such luxurious projects like the Orange Line Metro Train in Lahore out of CPEC funds. The great success of CPEC in Pakistan depends on to what an extent it would benefit the common people, particularly those living in remote, underdeveloped and conflict-ridden regions of Balochistan and K-P.

However, the previous PML-N government did not have the vision and therefore, it was against the CPEC western route by conveying to China that security of CPEC routes along the western alignment would be difficult therefore, it must be re-routed through Sindh and Punjab despite it being a long route. The criticism of PML-N former interior and planning and development minister Ahsan Iqbal on PM Khan's offer to Saudi Arabia to become part of CPEC testifies that the PML-N is opposed to the idea of Balochistan getting real development through CPEC.

For its part, the PTI government must keep on convincing Riyadh that developing an 'oil city' in Gwadar would ultimately be in its own interest because it would also develop the strategically located Pakistani seaport, where a strong Pakistani naval presence would be helpful in Islamabad's commitment to the defence of Saudi Arabia.

Published in The Express Tribune, September 27th, 2018.

Like Opinion & Editorial on Facebook, follow @ETOpEd on Twitter to receive all updates on all our daily pieces.
COMMENTS
Comments are moderated and generally will be posted if they are on-topic and not abusive.
For more information, please see our Comments FAQ