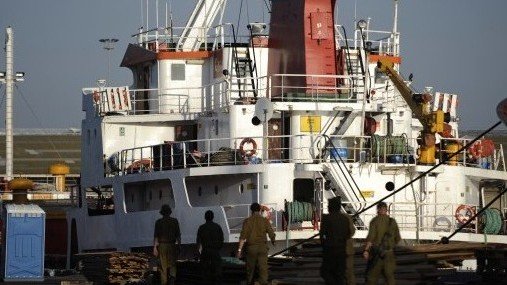 ---
JERUSALEM: Israel, facing mounting international outrage at its raid on an aid convoy sailing to Gaza, said on Tuesday that it would expel all activists seized on the ships and dropped threats to prosecute some of them.

Israel had said it would deport 682 activists from over 35 countries, seized during the assault in which nine activists were killed on a Turkish vessel, but the police minister had said some might be prosecuted for assaulting Israeli marines.

Amid widespread anger at the Israeli action, the UN Security Council called for an impartial investigation of the deaths, and the Turkish prime minister demanded the immediate lifting of Israel's "inhumane" blockade of the Gaza Strip.

A spokesman for Prime Minister Benjamin Netanyahu said later that all activists "would be deported immediately," and Israeli officials said they hoped to complete the operation in 48 hours.

The 700 activists detained when Israeli marines halted the six-ship convoy heading for the blockaded Palestinian enclave included Turks, Arabs, Americans, Asians and Europeans, among them two politicians and Swedish author Henning Mankell.

In Turkey, a visibly angry Prime Minister Tayyip Erdogan told parliamentary deputies: "Israel's behaviour should definitely, definitely be punished."

"The time has come for the international community to say 'enough'," said Erdogan, who demanded the immediate lifting of "the inhumane embargo on Gaza."

Erdogan's Islamist views and overtures to Iran and Israeli enemies are blamed by many in Israel for souring ties between the Jewish state and Turkey, once its closest Muslim ally.

The bloodshed also put Netanyahu's tense ties with US President Barack Obama under further strain. Netanyahu cancelled talks with Obama to fly home from Canada to handle the crisis.

Obama, who has revived Israeli-Palestinian peace negotiations through US-mediated indirect talks, said he wanted the full facts soon.

Israel ready to block another aid vessel

While Israel grappled with world criticism, its navy said it was ready to intercept another aid vessel that organisers of the flotilla planned to send to the Gaza Strip next week.

Netanyahu convened his security cabinet to debate what Israeli critics called a botched raid, and ministers said the naval blockade of 1.5 million Palestinians living in the Gaza Strip would continue, despite condemnation from allies.

"The opening of a sea route to Gaza would pose a tremendous risk to the security of our citizens. Therefore we continue a policy of a naval blockade," Netanyahu told his ministers.

Big questions

Unanswered questions included how far Israel could maintain its economic embargo on Gaza and how it misjudged the situation and dropped marines onto a Turkish ship where they felt they had to open fire to save their lives.

As pictures emerged of a handful of Israeli marines being beaten and clubbed by dozens of activists, it was clear there would be anger in Israel over the mishandled raid.

The International Committee of the Red Cross strongly deplored the deaths and injuries resulting from Israel's operation saying "the high number of casualties raises serious questions concerning the methods and means used" in the raid.

Israeli commandos involved in the attack pointed to a failure of intelligence. "We did not expect such resistance from the group's activists as we were talking about a humanitarian aid group," the boarding party commander told Army Radio.

"The outcome was different to what we thought, but I must say that this was mainly because of the inappropriate behaviour of the adversary we encountered."
COMMENTS (1)
Comments are moderated and generally will be posted if they are on-topic and not abusive.
For more information, please see our Comments FAQ