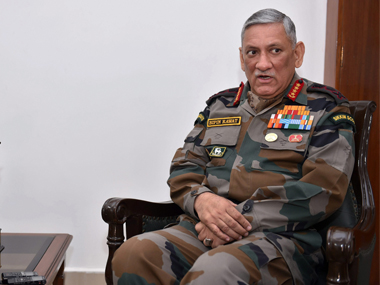 ---
Indian Army Chief Bipin Rawat 'wants another surgical strike' on 'terror launch pads' across the Line of Control (LoC) as occupied Kashmir continues to fester.

The Indian army chief said time was ripe for such action in an exclusive interview to Aaj Tak. "I believe there is a need for one more action (surgical strike). But I will not disclose how we intend to go about it," Rawat said in the interview broadcast on Monday.

Indian army chief threatens Pakistan with 'painful retaliation'

"Infiltration (across the LoC) continues despite talk of a ceasefire. Pakistani state institutions have to work in tandem. The government, military and bureaucracy have to be on the same page. The situation will not be remedied till they rein the Inter-Services Intelligence (ISI) in."

In 2016, India claimed to have carried out 'surgical strikes' on 'terror launch pads across the LoC following an attack on a military base. Categorically rejecting Indian claims, Pakistan announced to have captured an Indian soldier the same day.

Modi govt calls off Pakistan-India foreign ministers' UNGA meet

Ties between the two South Asian arch-rivals hit a fresh low after India recently called off a planned meeting between the foreign ministers of both countries on the sidelines of the United Nations General Assembly session.

Islamabad expressed 'deep disappointment' over the development saying reasons cited were 'entirely unconvincing'. The Foreign Office said the development was an emblem of how India had once again squandered an opportunity for peace.

India's Ministry of External Affairs said the meeting were called off after the "brutal killings of security personnel by Pakistan-based entities and the recent release of twenty stamps by Pakistan glorifying a terrorist and terrorism". Categorically rejecting the claims, the FO said a joint investigation team could probe the allegations.


COMMENTS (15)
Comments are moderated and generally will be posted if they are on-topic and not abusive.
For more information, please see our Comments FAQ