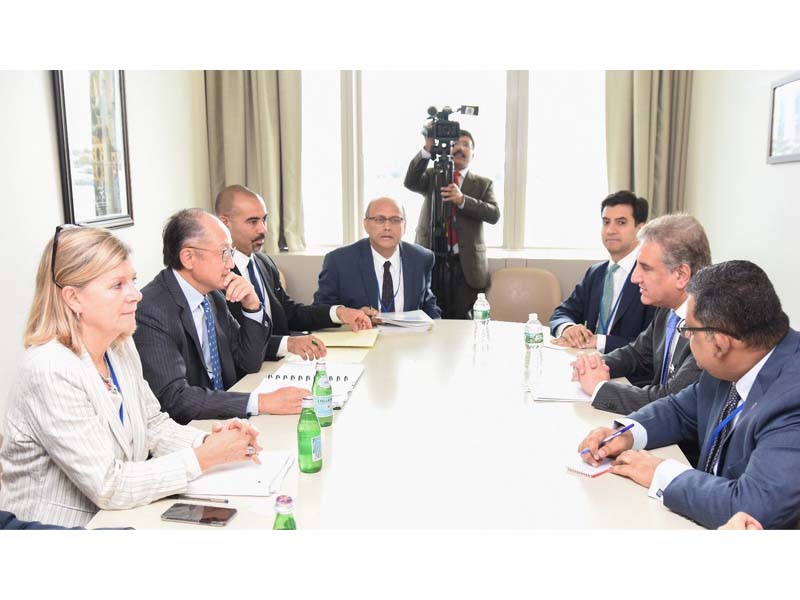 ---
Foreign Minister Shah Mehmood Qureshi on Monday raised the issue of India's violation of the Indus Water Treaty with World Bank's President Jim Yong Kim.

Qureshi met Kim on the sidelines of the United Nations General Assembly (UNGA) session.

According to the foreign office statement, the minister spoke of New Delhi's construction of water reservoirs during the meeting.

The foreign minister said that the water issue should not be politicised and be dealt as a humanitarian issue instead.


FM met the President of the World Bank on the sidelines of UNGA, raised the issue of the construction of water reservoirs by India in violation of Indus Waters Treaty. FM said that water issue should not be politicized and should be dealt as a humanitarian issue. pic.twitter.com/DRwvLihVhH

— Spokesperson 🇵🇰 MoFA (@ForeignOfficePk) September 24, 2018


India's planned hydropower projects at Lower Kalnai and Pakal Dul  will have installed capacity of 48 and 1,000 megawatts respectively meaning New Delhi will be able to control 108,000 acre-feet of water from river Chenab.

Both the projects constitute a violation of the Indus Water Treaty 1960. The treaty allotted the waters of three eastern rivers namely Ravi, Beas and Sutlej exclusively to India while that of Western rivers namely Indus, Chenab and Jhelum to Pakistan.

However, India has some rights on Western rivers which include unrestricted rights to develop hydroelectric power within the specified parameters of the design