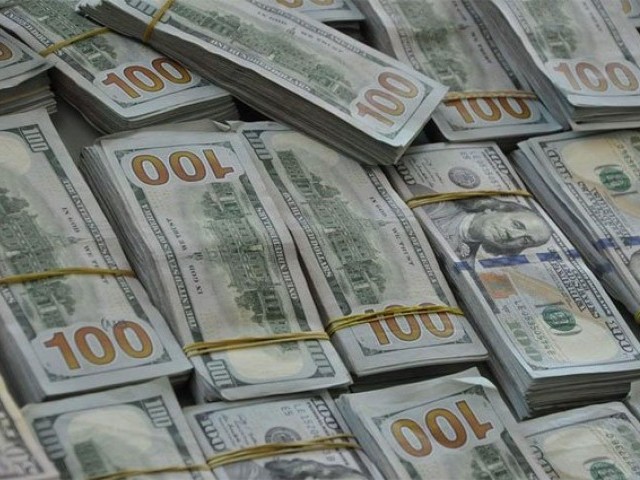 ---
KARACHI: The foreign exchange reserves held by the central bank continued to spiral downwards as they decreased 3.07% on a weekly basis, according to data released on Monday.

The drop in reserves raises concern about Pakistan's ability to meet its financing requirements as the reserves have fallen below the $9.5-billion mark.

On September 14, the foreign currency reserves held by the State Bank of Pakistan (SBP) were recorded at $9,328.8 million, down $295.6 million compared with $9,624.4 million in the previous week.

The decrease was attributed to external debt servicing and other official payments.

Overall, liquid foreign reserves held by the country, including net reserves held by banks other than the SBP, stood at $15,790.1 million. Net reserves held by banks amounted to $6,461.3 million.

A month ago, China agreed to immediately give a loan of $2 billion to Pakistan, a move meant to arrest the slide in foreign currency reserves and provide much-needed breathing space for the new government.

Foreign exchange: SBP's reserves fall another 2.64%, amount to $9.62b

Of the agreed amount, $1 billion had already been transferred to the central bank account. According to officials in the Ministry of Finance, the loan will be categorised as official bilateral inflow.

Earlier, the reserves dipped to an alarmingly low level of $9.06 billion, forcing the central bank to let the rupee depreciate massively on four separate occasions since December 2017 and sparking concern about the country's ability to finance a hefty import bill as well as meet debt obligations in coming months.

In April, the SBP's reserves increased $593 million due to official inflows.

A few months ago, the foreign currency reserves surged due to official inflows including $622 million from the Asian Development Bank (ADB) and $106 million from the World Bank.

The SBP also received $350 million under the Coalition Support Fund (CSF).

In January, the SBP made a $500-million loan repayment to the State Administration of Foreign Exchange (SAFE), China.
COMMENTS
Comments are moderated and generally will be posted if they are on-topic and not abusive.
For more information, please see our Comments FAQ