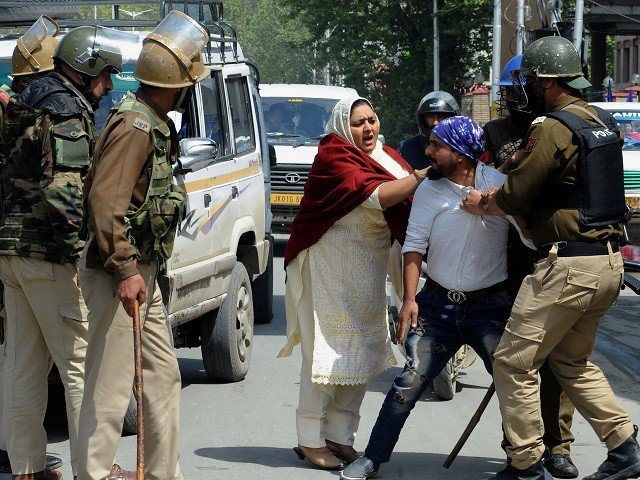 ---
ISLAMABAD: Member of the British House of Lords, Lord Nazir Ahmed on Saturday said India was emerging as intolerant and fascist nation for supporting fascist groups and also for suppressing the voice of Kashmiri people during their freedom movement.

He said that Pakistan must give befitting response to Indian Army Chief to realise them as Pakistan could respond to any foreign aggression to save their land. He said that Indian political leadership should play responsible role to resolve the issue through dialogue including the core issue of Kashmir.

He stressed that Kashmiris wanted self-determination for protecting their basic human right and wanted to live their life according to their own will. Nazir said that Indian fascist and intolerant attitude threatened the world peace and there was threat of war between the two nuclear states, adding that now the United Nation (UN) must play due role to settle the core issue of Kashmir.

Lord Nazir said that India was giving one sided opinion and suppressing the point of view of people who are struggling for their freedom. He added that fascist were influencing the opinion in India and suppressing the intellectual voice.

He said that few people in India want to create war like situation and trying to harm the peace between two neighboring countries. Lord Nazir hailed Prime Minister Imran Khan's efforts for new beginning with India by inviting Indian Prime Minister to start negotiation between the two countries on the core issues.

He was of the view that Foreign Minister Shah Mehmood Qureshi should raise the voice against Indian attitude in current scenario while being Washington. He also condemned the Indian brutalities in Kashmir and search operation started by Indian Army in Indian Occupied Kashmir, where they raped the women in search operations.

Lord Nazir also condemned the Indian indiscriminate firing on Line of Control (LoC) which killed hundreds of innocent people on Pakistani side.

He also proposed that Prime Minister Imran Khan would appoint a Kashmiri individual as chairman of Special Kashmir Committee like Mishal Malik to highlight the Kashmir issue at international forums. Mishal Malik said that Indian government and Army are on the same page for crushing the right of self-determination of Kashmiris. She proposed to Pakistan's leadership for calling All Parties Conference (APC) on recent Indian attitude for not accepting Pakistan's invitation for dialogue to resolve the issues in peaceful manner.

Published in The Express Tribune, September 23rd, 2018.