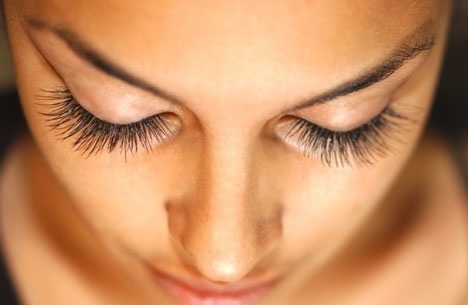 ---
Which girl, irrespective of age, doesn't long for long eyelashes? To give eyelashes that fluttering and dramatic look, women use either mascara or fake eyelashes while some even opt for eyelash extensions.

However, there is more than meets the eye since these tactics may only provide satisfaction in the short run. Compiled from Style Craze, here is a list of six simple home remedies to make eyelashes longer and naturally beautiful.

1. Castor oil




Since castor oil has a thick consistency, mix it with lavender oil and apply it to the eyelashes with a Q-tip or mascara wand.  Leave it on overnight. Do this every night religiously and you will have long, thick lashes in three to six months.

The carrier oil contains nourishing fatty acids that help your lashes to grow longer and thicker. These oils also nourish the hair follicles. The addition of essential oils such as lavender, rosemary and jasmine oil will make this remedy even more potent because these oils contain plenty of antioxidants to restore and maintain healthy lash growth. They also improve circulation.

2. Petroleum jelly




Carefully apply some petroleum jelly on the eyelashes and leave it on overnight. Do this every night.

Pure petroleum jelly if applied to your lashes regularly helps them to grow faster making them thicker and stronger. It is a great moisturizer for any dry skin on your eyelids that may be preventing eyelash growth.

3. Lemon peels




Cut one lemon peel into small pieces and soak it in olive or castor oil for two to three days. Now, apply this oil on the eyelashes before going to bed. Repeat this routine three to four times a week.

4 kinds of smokey eyes you can experiment with this autumn

Lemon peels act as a hair growth promoting agent because they contain vitamin A and C.

4. Green tea




You will need one teaspoon of green tea leaves and a cup of boiled water. Add the tea leaves to water and let them soak for a couple of minutes. Once the water has cooled down, apply it to the lashes.

Leave this on overnight preferably. Store the rest of the green tea in an air-tight container in the refrigerator. You can use the same solution for three to four days. This should be done once every day.

The plethora of antioxidants found in green tea promote healthy lash growth and make them longer, thicker, and stronger.

5. Shea butter




Take a tiny amount of shea butter in between your fingertips and melt it by rubbing your fingers together. Apply this on your eyelashes and leave it on overnight.

Shea butter is often used to improve hair texture and quality as it contains a good amount of vitamin A and E. It nourishes the hair and follicles that enhance growth.

6. Vitamin E




Pop open a vitamin E capsule and apply the oil present inside on the eyelashes. Leave this on for three to four hours or overnight. Do this once every day.

The antioxidant capacity of vitamin E oil promotes healthy hair growth. Application of this oil will also improve blood circulation to the hair follicles.

Have something to add to the story? Share it in the comments below.