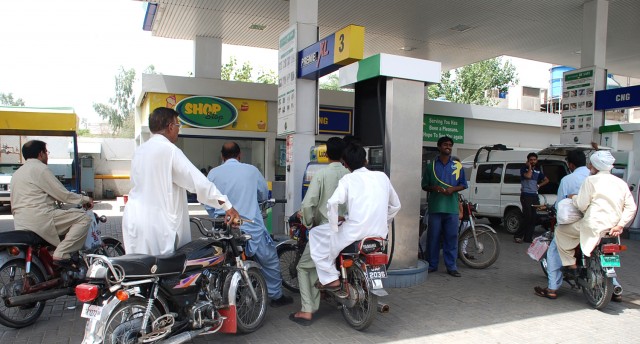 ---
LAHORE: The decision to reduce petroleum prices by Rs6 per litre left diesel pricier than petrol for the first time in the country's history.

The general public welcomed the reduction in fuel prices but transporters seemed unhappy at the nominal (Rs1.08 per litre) decrease in the price of diesel.

The Economic Survey of Pakistan states that the total consumption of diesel beats petrol utilisation by a multiple of five. The masses have expressed their delight and surprise at the unprecedented petroleum price slash. They fear however that their excitement may be short-lived and the government may increase prices next month.

"The price reduction is indeed substantial but we can not ignore the possibility that a price hike next month may be bigger than the decrease today.

The government should consider decreasing the price of diesel as well as it is a major input in power generation. "A measure like that would actually translate into major relief for the public," stated a banker named Sadeed Ather.

The transporters have shrugged off the price reduction and termed it 'deceitful and superficial'. They complained that whenever the price of petrol was increased in the past, it was always matched with an almost identical increase in the price of diesel.

They stated that it was 'interesting' to note that the two commodities were not paired in their downward spiral. They pointed out that reducing petroleum prices would not lower bus fares or impact public mobility.

"Both inter-city and intra-city public transport tariffs are dependant on diesel prices and would remain unchanged. The government knows that more diesel is consumed than petrol", stated Habib Warraich, the owner of a private bus company.

Pakistan Industrial Alliance Federation (PIAF) demanded that the government should decrease diesel prices in the same ratio as the petroleum to benefit the industrial sector. Chairman Irfan Qaiser Sheikh (PIAF) said that about 90 per cent of public transport was fuelled by diesel and the minimum price decrease should have been eight per cent.

He added that the industry was already struggling to overcome several internal and external challenges and could really use some relief in the price of inputs.

Published in the Express Tribune, June 2nd, 2010.
COMMENTS
Comments are moderated and generally will be posted if they are on-topic and not abusive.
For more information, please see our Comments FAQ