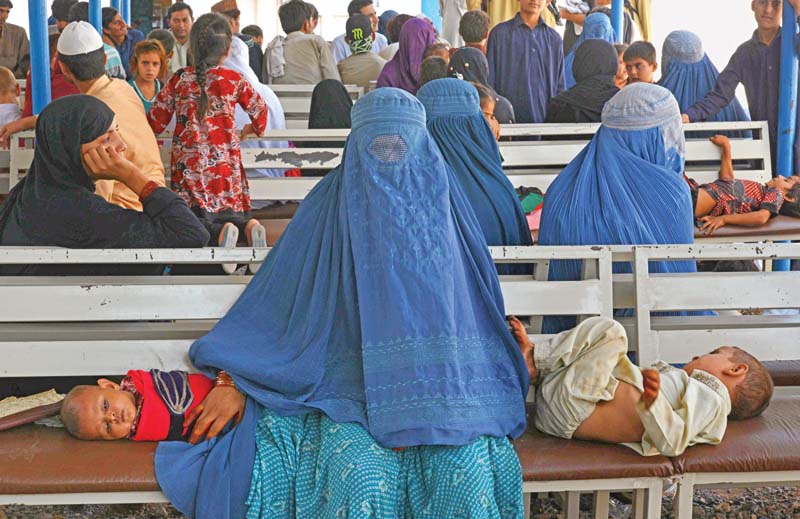 ---
ISLAMABAD: The Balochistan National Party (BNP) has threatened to quit the ruling coalition at the Centre over Prime Minister Imran Khan's plans to offer citizenship to a large number of Afghan and Bangladeshi refugees residing in Pakistan for a couple of decades.

BNP, the third largest party in the eight-party coalition led by the Pakistan Tehreek-e-Insaf, says that the "controversial" plan is in violation of an agreement signed by both parties before forging a formal alliance after the July 25 general election.

One of the six points of the Memorandum of Understanding (MoU) signed between the PTI and the BNP calls for "an honorable repatriation of all Afghan refugees to their country, Afghanistan", Senator Dr Jehanzeb Jamaldini, the BNP secretary general, told The Express Tribune on Wednesday.

"It will become difficult for us to sit in the coalition if the PTI fails to implement everything both sides had agreed upon at the time of entering into an alliance," he said. "The PM must retract his statement and announce abandoning the plan to grant citizenship to aliens," he added.

Pakistan-born refugees offered citizenship

Jamaldini said the BNP had conveyed its reservations to the members of a PTI delegation that met BNP leaders on Wednesday to discuss the issue of refugees.

The PTI team included National Assembly Speaker Asad Qaiser, Defence Minister Pervez Khattak and Jehangir Khan Tareen.
The BNP side was led by its chief MNA Sardar Akhtar Mengal, MNA Agha Hassan Baloch, Senator Jehanzeb Jamaldini, and former senator Mir Lashkari Raisani.

"PTI will have to clarify its position on this matter. We have conveyed our message. Now the ball is in PTI court," Jamaldini said.
During his maiden visit to Karachi, Prime Minister Imran Khan announced that his government would grant citizenship to Pakistan-born Bengali and Afghan refugees, asserting that this was their fundamental right and it would help curb street crimes.

"There is no social security system and hundreds of thousands of unregistered Afghans and Bangladeshis are living in (Sindh's) metropolis. They cannot acquire ID cards and passports and this is why they are denied jobs. Soon, Afghan and Bangladeshi refugees who are born here will (be able to) get National Identity Cards (NICs) and passports," Prime Minister has said.

However, opposition parties, including the PPP, reacted adversely to this announcement which also infuriated some coalition partners.
During the Tuesday's session in the National Assembly, BNP chief Sardar Akhtar Mengal asked the PM to clarify his remarks in this regard, reminding that this was against the agreement PTI had signed with BNP.

Consensus needed on refugee citizenship issue: PM Imran

Clarifying his position, the Prime Minister said: "So far, there is no decision to this effect (and) all stake holders, including political parties, will be consulted before a final decision is taken."

However, he again supported the idea of granting citizenship to refugees, saying it was purely a human rights issue and that every child had the right to citizenship.

The PM also acknowledged on the floor of the House that PTI had agreed with BNP to repatriate all Afghan refugees but because they were unable to acquire identity documents, these "underclass" people were left with no other option but to indulge in crimes.

In response, BNP chief Akhtar Mengal tried to respond to the PM's remarks, but he was denied the opportunity by the Speaker.

Subsequently, BNP and MMA lawmakers staged a walk-out in protest.
"Granting citizenship rights to refugees is not the only way to reduce street crimes," Dr Jamaldini observed.

BNP is the only major coalition ally which had refused cabinet portfolios. It insisted that PTI should fully implement all its demands mentioned in the MoU.

The BNP also refused to become part of the PTI-BAP coalition and opted to sit on opposition benches.