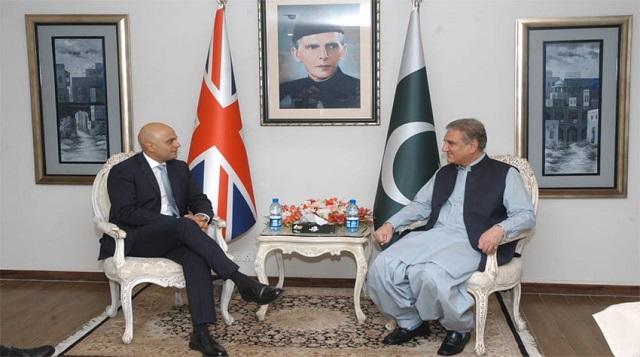 ---
ISLAMABAD: Pakistan and the United Kingdom on Monday announced to undertake 'justice and accountability initiative' aimed at expediting operational working on various cases of extradition, money laundering, recovery of stolen assets and other serious organised crimes.

British Home Secretary Sajid Javid, who is in Pakistan on a two-day official visit, announced launching the initiative titled, "UK-Pakistan Justice and Accountability Partnership" in a press conference held at the Prime Minister Office.

Law Minister Farogh Naseem and Special Assistant to Prime Minister on Accountability Shahzad Akbar also spoke on the occasion.

Both the sides also agreed to revive a bilateral prisoners' transfer agreement – that existed in the past but has been dysfunctional for the last many years – and establishing a joint fund on civil recovery of stolen assets under the initiative.

However, responding to several questions, the British home secretary and law minister separately clarified that the new initiative was not aimed at targeting any specific individual or take up some particular case.

Rather they said, "it's an initiation of a new legal regime under which both the countries can work efficiently to tackle corruption and it will be implemented across-the-board once enforced".

British diplomat prefers Urdu to wish Muslims Eid Mubarak

"We do not discuss names or cases of specific individuals or any particular amounts. We will be led by evidence. Through this initiative the UK will help provide a mechanism so that when there is evidence against individuals, they can be brought to justice more quickly," Javid said.

He was responding to a question regarding the Sharif family's Avenfield properties and extradition of former finance minister Ishaq Dar and former PM's sons and whether the issue came under discussion during his meeting with the prime minister.

The British secretary further informed the media that his government would soon appoint Director of the Economic Crime Unit of the National Crime Agency as new envoy to the British High Commission on justice and accountability.

"He (envoy) will help Pakistani law enforcement agencies fill all requests we do in terms of mutual legal assistance or extradition requests," the PM's assistant on accountability said.

"I heard about direct impact that money laundering has on Pakistan. It reduces tax, it takes money from basic services, and it's a barrier to investments. With the PM (Imran Khan), I have agreed that tackling corruption is a priority for both of our governments," the British home secretary said.

"Both the sides want to ensure that no one can escape justice or act with impunity," he added.

To another question, the British home secretary said, "Both the countries take money laundering very seriously," adding, "The UK wish to work with Pakistan to help it out of the FATF grey list."

Recalling the UK's historical relation with the Pakistan, Javid said, "Our interconnection also poses risks for both of our countries, through the flow of illegal money, people, crime and terrorism. So it is vital that we do all we can to encourage a strong bond between the countries while cracking down on all those who wish to abuse our laws."

"The UK is firmly committed to working with Prime Minister Imran Khan closely to build on our historic strong foundations and new PM's vision for Pakistan's future."

He said Pakistan had suffered the most from terrorism. "Terrorism is a threat that we all face; therefore, we need to take a more concerted action and work together," he added.

He said the UK would restart with Pakistan the bilateral prisoners transfer agreement in a bid to help prisoners serve their sentences closer to their families.

The secretary also talked about the UK's investment in Pakistan's education sector..

UK ready to assist Pakistan off FATF grey list

He said as the UK prepares to leave the European Union partner like Pakistan are of renewed significance now. "With a grand population of over 200 million people, Pakistan has the potential to emerge as an increasingly stronger trading partner for the UK."

The PM's special assistant on accountability told the news conference that in addition to the justice and accountability initiative, the UK would also support the PM's initiative for legislative, and civil and criminal justice system reforms.

To a question, Law Minister Farogh Naseem said, "Both the sides have agreed on today's declaration and soon modalities of this cooperation will be finalised."

"I will not share the details," Naseem said to a question if the government had shared any list of cases it wanted to take up with the UK government under the initiative.

Earlier, the British home secretary also paid a courtesy call on Prime Minister Imran Khan.

According to a statement issued by the PM Office, the prime minister expressed satisfaction over the current direction of bilateral relations and hoped the two countries would further strengthen this into a multi-faceted strategic partnership.