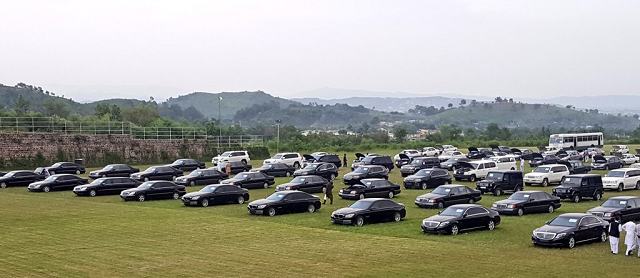 ---
ISLAMABAD: Information Minister Fawad Chaudhry announced over 70 cars have been auctioned on Monday as part of a wider austerity drive by the Pakistan-Tehreek-e-Insaf-led government.

The government commenced the auction of 102 luxury cars earlier in the day, Radio Pakistan reported.

The fleet includes 27 bullet-resistant vehicles and several non-protected ones - both latest and vintage models - one of which was sold for 1.1 million rupees soon after the auction started, according to reports.

Businessmen expect austerity drive to improve economic health

CM Sindh forms committee 

Sindh Chief Minister Murad Ali Shah has formulated a three-member committee, made up of the provincial excise minister and two others, for the auction of luxury cars.

"I am astounded at what the media runs, I use three luxury cars only," said the chief minister and added that the provincial government has a 26-year-old helicopter.

As per official figures compiled by the Establishment Division, the government spent Rs622 million on as many as 398 vehicles run by various ministries and divisions between January 2013 and January 2017.

The government is keen to adopt austerity measures, minimising the misuse of funds on official vehicles.

Information Minister Fawad Chaudhry had spoken about the initiation of an austerity drive after the first meeting of the new federal cabinet. Decisions taken on the occasion included withdrawal of state-funded medical facilities for ministers and restrictions on foreign visits by the prime minister, ministers and bureaucrats. The decision to auction 'surplus' PMO vehicles was also taken at the huddle.

Govt to abolish fund allocation for gifts, entertainment

Furthermore, the new government decided to abolish budgetary allocation amounting to Rs516 million for gifts and entertainment under its austerity campaign.


COMMENTS
Comments are moderated and generally will be posted if they are on-topic and not abusive.
For more information, please see our Comments FAQ