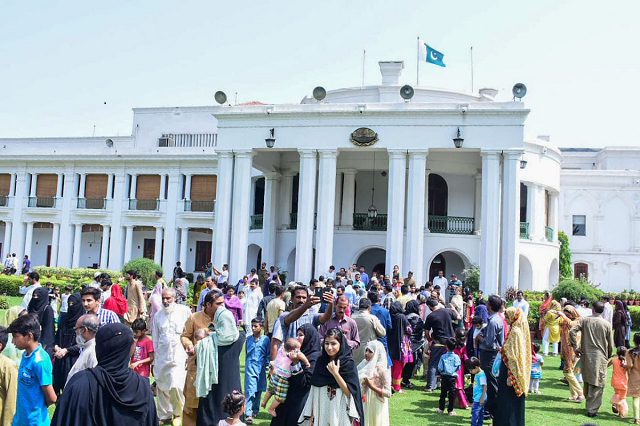 ---
LAHORE: The Pakistan Tehreek-e-Insaf (PTI) government opened Punjab Governor's House for the public from Sunday (today).

Punjab Governor Chaudhry Muhammad Sarwar in a Tweet said: "Governor's House in Lahore will be opened for public every Sunday (10 am - 6 pm). Our government is fulfilling promises made with the people of Pakistan."


Today we welcomed the public to a soft launch of the Governor house in Lahore. We had an overwhelming response since 9am. It's the first time in history where a Governor of Punjab has opened the doors of the Governor House for the public! pic.twitter.com/Yk9B3xUOBx

— Mohammad Sarwar (@ChMSarwar) September 16, 2018


Speaking to The Express Tribune, a spokesperson of the Punjab Governor said the Governor's House has been opened for public from today. Any citizen, along with his family, can visit the Governor's House by showing his Computerised National Identity Card (CNIC) at the main entrance, he said. He added that initially some specific areas, like lake, lawns, and hill are being opened for public.

G-B governor steps down amid controversy

Responding to a question, he said special security arrangements have been made to protect the historic building. It is happening for the first time in the Punjab Governor's House history that the premises are being opened for the general public. Earlier, former Punjab Governor Mian Muhammd Azhar opened Governor's House's gates for school children, college and university students in the 1990s. During his tenure, over 20,000 students visited the Governor's House and this tradition is continued till today.


Public feedback today at the Governor House Lahore! pic.twitter.com/DDO4Yj53UZ

— Mohammad Sarwar (@ChMSarwar) September 16, 2018


The PTI government has already opened gates of the Murree Government House and Sindh Governor House for the public.

The significance of Punjab Governor's House

The historic Punjab Governor's House is unique in many ways. The building was originally constructed during 1851. Initially, it had a limited area but during the British Raj and subsequent regimes, its area was expanded by acquiring surrounding land. During the British Raj, this building was being used as the official residence of the British Lieutenant-Governor of Punjab and following the independence of Pakistan in 1947, it was formally designated for the use of Punjab's Governor.

Families may visit Sindh Governor's House from tomorrow

Currently, the Punjab Governor's House is spread over an area of 71.5 acres. It is an official residence not only for the governor but also for the president of Pakistan, prime minister of Pakistan, state guests, foreign heads of states and dignitaries who visit provincial capital as state guests.


After Sindh, Governor House Lhr opens for the 1st time to public. Reclaiming public spaces; 1 of the biggest symbolic gestures of PM IK's anti corruption drive. People deserve to have places where they can go. Place run on Tax money isn't just for ruling elite.#PMAusterityDrive pic.twitter.com/C85QzBGyKi

— PTI (@PTIofficial) September 16, 2018



Punjab Governor's House has the privilege to host several heads of the states, including Quaid-e-Azam Muhammad Ali Jinnah, former Saudi King Shah Faisal, former US president Richard Nixon, former Indian prime minister Jawaharlal Nehru, former UAE president Zayed bin Sultan Al Nahyan, Libyan President Mohammad Muammar Gaddafi and dozens of other leaders. It has been an official residence of governors of the province for 150 years.


In 1974, 24 head of the states, who participated in the Islamic Summit Conference, were also hosted a lunch in Punjab Governor's House lawn for which a special dining table was designed and built. Though Muslim countries cannot get much benefit for the summit, this dining table is still preserved at the Governor House.

The Governor's House has another privilege that all governors, chief ministers and chief justices of the Lahore High Court took oath in this building. The province's governor lives in one section of the building and the remaining building is being used for several other functions. It has a Prince Wing for heads of the state, president's room, prime minister's room, residences for military secretaries, governor's secretariat, residences for president and prime minister's staff (around 10 guest rooms) when they visit Lahore.

It has 400-year-old Darbar Hall, which is generally used for all official functions, including oath-taking ceremonies and federal cabinet meeting. It has huge lawns, lake, hill, separate high schools for boys and girls, market, utility store, mosque, police line and residence colony for the employees of the Governor House.

Published in The Express Tribune, September 16th, 2018.
COMMENTS
Comments are moderated and generally will be posted if they are on-topic and not abusive.
For more information, please see our Comments FAQ