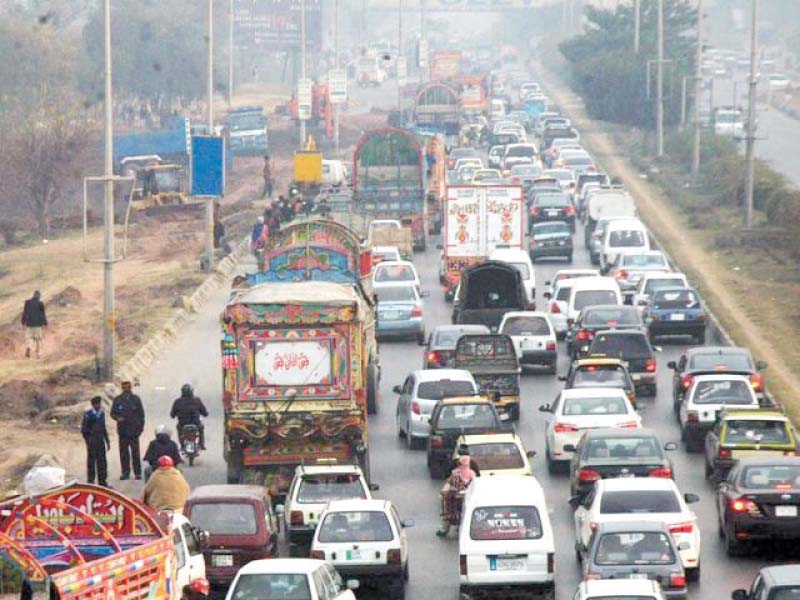 ---
ISLAMABAD: Travelling daily on Islamabad Expressway from Koral to Rawat or vice versa has become a nightmare for commuters where traffic remains clogged for hours with apparently no practical solution in the sight. The route claiming to be a signal-free facility by 2017 seems to remain a quagmire for daily commuters even in 2018 as authorities concerned are restricted to only paper work.    Capital Development Authority (CDA) sources, said last year it had prepared a self-financed PC-1 of worth Rs21 billion for widening this road by adding one more lane on each side from Koral to Rawat but later it was shelved due to scarcity of funds.

However, they said that the department again had to draft another PC-1 that was approved in Public Sector Development Programme (PSDP) 2018-19 with a cost of Rs10 billion. The project was likely to get a green signal from Executive Committee of the National Economic Council (ECNEC) in its next meeting, they said. The sources said the project would consist of two phases and Rs5 billion were earmarked for each phase. The area from Koral to Naval Anchorage would be constructed in the first phase, while the remaining part would be covered in the second phase.

Shahzad Khalid, who daily travels from Bahria Town to Sector F-8 said it was a nerve-testing job to reach the office in time or get back home urgently and a lot of time was wasted behind the queues of heavy vehicles. He said there was no other solution to this mess except construction of a ring road on both sides of the route. He said all the three lanes are frequently seen occupied by heavy trucks.

Quratul Aain, a working journalist who has to travel daily from Media Town to Islamabad said, "You cannot determine your time destination while reaching the office or getting back home. It has become a daily routine." Expressing dismay over the situation, she remarked, "It will never change."

Islamabad Traffic Police (ITP) Deputy Superintendent  Arshad Chaudhry said the traffic jam was inevitable on this route because it had ten lanes up to Gulberg, but suddenly it narrowed down to four lanes causing a severe traffic mess, create miserable condition for daily road-users. He said the signal-free corridor from Zero Point to Rawat was required to be completed as early as possible to get rid of this daily suffering.

He categorically said, "Adding one more lane cannot serve as a permanent solution." He said, "9am and 5pm are peak hours when the road bears a heavy influx of traffic for the public that moves to and from their offices and residences." Responding to a question, he said the heavy traffic from Islamabad Expressway during the peak hours was being diverted towards Gulberg's round-about to let the light vehicles use the fast lane.

Arshad said in worst case scenarios trucks were being asked to line up on the road side to keep light traffic moving to clear the passage. Moreover he informed that the ITP had assigned two inspectors and eight officials on this route, working round the clock for the ease of road-users. A traffic sergeant at a stop for specially abled people said two narrow bridges and a couple of U-turns on this passage were major reasons for daily gridlocks on this heavily burdened artery.

Another official of ITP said, the department was facing a dearth of machinery to remove broken down vehicles from the roads. It is not an issue of traffic management but a policy issue as the road leading up to Gulberg Chowk has five lanes that shrink to two lanes soon after, resulting in a traffic jam, he added. "We are simply regulators and not the policy makers. Road widening is the CDA's job and unless the road is widened, this issue will continue to prevail as there is no other route or ring road for heavy traffic moving from Khyber-Pakhtunkhwa to Punjab," he said.  

Published in The Express Tribune, September 14th, 2018.
COMMENTS
Comments are moderated and generally will be posted if they are on-topic and not abusive.
For more information, please see our Comments FAQ