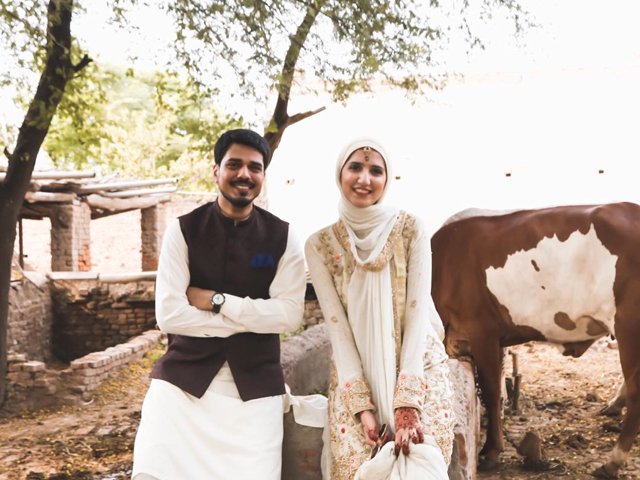 ---
KARACHI: Now we've all seen - and some of us have done - those cringe-worthy wedding photo-shoots where the bride and groom hug awkwardly, trying to not look as uncomfortable as they actually probably are.

Thankfully, the trend is changing. We're slowly moving on from the typical Bollywood-esque twirls and rose petal showers to more scenic backdrops. Mosques are the new preferred picture spots for couples in Lahore, while Karachi people often go to Frere Hall.




PHOTO: MAHA JAVID/INSTAGRAM: MERSCENERY

But one young Pakistani couple decided to go all out and have their wedding photos in their village. And surprisingly, the results have come out great!




Currently residing in Sydney, Khansa Maqbool and Umair Ajmal had an intimate nikkah ceremony with their close friends and family just last week. "I always wanted my nikkah to be at Faisal Mosque but Umair is originally from Sahiwal which is way too far from Islamabad. So my family decided to call his family to our gaon (village) Bhera instead, because it was closer and easier to travel to," Khansa told The Express Tribune.




The bride then thought of conducting their photo-shoot at an ancient village mosque but unfortunately, that was under construction.




"When Umair and his family reached our house, we decided to make do with the situation we were in and just enjoy it. I called up my friend Maha Javid who is also a photographer. She got a flight from Dubai to Islamabad the night before my nikkah and then went with me to Bhera," said Khansa.




Speaking of her white dress, Khansa mentioned that her mother had gotten it made before she arrived in Pakistan. "I opened up Mama's old jewellery box and took out a random teeka which I decided to wear for a more traditional look. My bhabhi and I did my makeup and my baby cousin put mehndi on my hands the night before. That's it."




The newly-weds are very proud of their pictures. "We embraced all the little things the village is known for. The cows, the sheep, the field and the terrace with the Pakistani flag," Khansa shared. "The sheep and field are owned by us, the bike belongs to my cousin and the chaarpai is my uncle's who takes care of the cattle. The tap seen in the pictures is where everyone in the village drinks water from. The ghara (pot) on my head was extremely heavy so I needed my brother to help me hold it."




Apart from the sunlight, one of the other reasons that the couple choose to wear sunglasses was to show that they are proud of their Pakistani heritage and traditions. Khansa said, "I don't know why most of the youth is embarrassed of belonging to a village. Umair and I decided to make our wedding and photo-shoot very desi and fun, so that others can find pride in it as well."




She added, "I'm happy that my nikkah took place in Bhera because we were able to get a very unique photo-shoot, instead of the typical bridal photos that everyone gets."




We wish the couple a very blessed married life ahead!

Have something to add to the story? Share in the comments below.