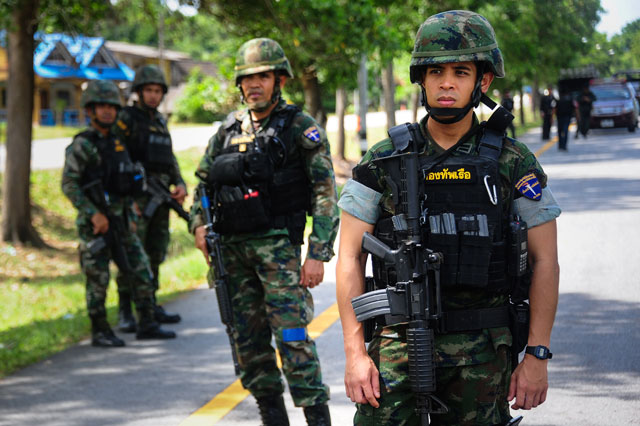 ---
BANGKOK: Two army rangers were gunned down and four more wounded in a night-time ambush by suspected militants in Thailand's Muslim-majority south, officials said Wednesday.

The region bordering Malaysia has been in the grip of a low-level but bloody insurgency for more than a decade as ethnic Malay militants battle the Buddhist-majority state for greater autonomy.

The rangers came under fire late Tuesday in Pattani, one of the provinces worst-hit by a conflict that has killed nearly 7,000 people, while patrolling Nongchik district on motorcycles.

Whale dies in Thailand after swallowing 80 plastic bags

"Two rangers were killed at the scene of the attack and four others were wounded," Captain Sarawut Nuchwang, deputy chief police investigator, told AFP.

The number of attackers and their identities remain unknown.

"We suspect it was the work of the same local group who are active in this district," southern army spokesperson Colonel Pramote Prom-in said, in an apparent reference to a band of local militants.

"They want to create a situation to incite unrest."

Thailand's three southern-most provinces were colonised over a century ago.

But the majority Malay Muslim population have resisted Bangkok's rule, calling for greater autonomy or independence.

They accuse the state of railroading their distinct culture as well as carrying out routine abuses which go unpunished.

The latest round of insurgency broke out in 2004, marked by near-daily shootings or bomb attacks which have left civilians--both Muslim and Buddhist--bearing the brunt of the violence.

The shadowy militants shun publicity, operating in small cells in remote forested border areas.

The main militant group the Barisan Revolusi Nasional are reluctant to commit to peace talks in public.

Trapped Thai Junior team gets dive lessons as rescuers plan for extraction

Since Thailand's ruling junta seized power in 2014, big attacks have become less frequent due to a combination of heightened security, arrests and intelligence work.

Last year a record low of 235 people were killed in clashes between militants and the military.

But in recent weeks violence has spiked with a series of shootings and small bombings, including targeted attacks on rubber farmers.
COMMENTS
Comments are moderated and generally will be posted if they are on-topic and not abusive.
For more information, please see our Comments FAQ