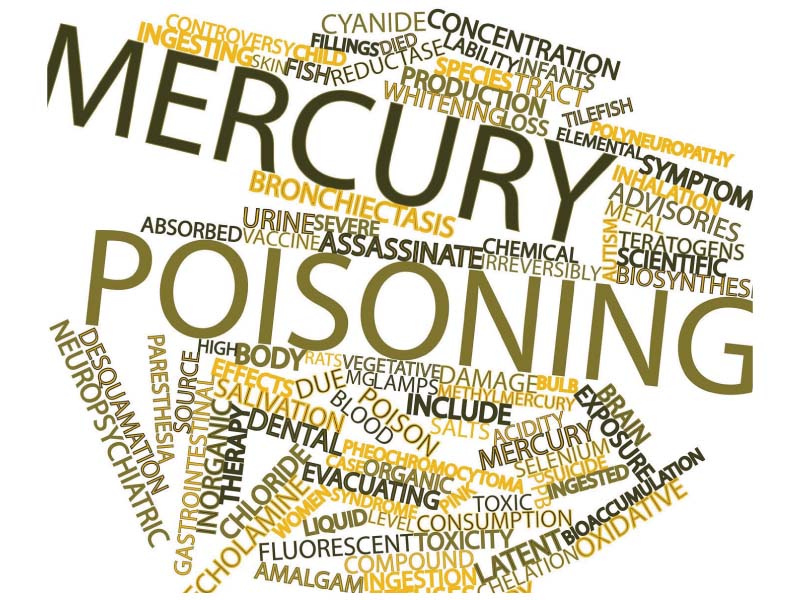 ---
ISLAMABAD: Mercury poisoning refers to toxicity from mercury consumption. Mercury is a type of toxic metal that comes in different forms within the environment. The most common cause of mercury poisoning is from consuming too much methyl mercury, which is linked to eating seafood.

Sustainable Development Policy Institute (SDPI) Environmental Scientist Dr Mahmood A Khwaja, said that his organisation's research conducted in collaboration with the climate change ministry found that high levels of mercury presence was found at hospitals in Islamabad and Rawalpindi, which pose a serious risk to the lives of patients and other visiting people  and the surrounding environment.

Mercury poisoning is a type of metal poisoning due to mercury exposure. Symptoms depend upon the type, dose, method, and duration of exposure. They may include muscle weakness, poor coordination, numbness in the hands and feet, skin rashes, anxiety, memory problems, trouble speaking, trouble hearing, or trouble seeing.

He underlined the need for increasing public awareness on the matter by including topics about mercury toxicity, their impacts, sources and causes and methods to avoid human exposure to it and its impacts.

Environmental experts, industrialists and policymakers mutually agreed that controlling sources of mercury pollution or emissions and educating the public on its grave impacts can effectively help minimise the toxic chemical's exposure to human health and the environment.

"Making Pakistan mercury-neutral is not possible without tackling the sources of the toxic mercury as well as a strict policy, legal and public advocacy and awareness measures," stressed Joint Secretary (International Cooperation) Hammad Shamimi at the Ministry of Climate Change.

Addressing as a chief guest at the concluding session of the three-day national mercury toxicity assessment seminar, the environmentalist  Shamimi, however, assured of the strong commitment of his climate change ministry to work with country's environmental, health, education, industrial sector and educational institutions to eliminate the sources of mercury contamination.

The event was organised by the Ministry of Climate Change in collaboration with the United Nations Environment Programme (UNEP) and Global Environment Facility (GEF) in Islamabad on Friday at a local hotel under its project the 'Development of Miniamata Initial Assessment in Pakistan'.

Adopted in October 2013 in Kumamoto, Japan and ratified by 98 countries including Pakistan, the Minamata Convention comprises various mercury-control actions for it signatory countries, such as a ban on new mercury mines, the phase-out of existing ones, the phase-out and phase-down of mercury use in a number of products and processes, control measures on emissions to air and on releases to land and water.

Explaining about health hazards of the mercury toxicity during his address to the participants of the workshop, Aga Khan University Department of Community Health Sciences Assistant Professor Dr Asad Afridi said, "Neurologically, it can take you into depression, or it can take you into anxiety, result in tremors in your body. It can make you hyperactive, or it can give you chronic fatigue."

"More often, mercury poisoning builds up over time. However, a sudden onset of any of these symptoms could be a sign of acute toxicity," said Dr Afridi.

He said that small amounts of mercury are present in everyday foods and products, which may not affect your health. Too much mercury, however, can be poisonous. Mercury itself is naturally occurring, but the amounts in the environment have been on the rise due to industrialisation. The metal can make its way into soil and water, and eventually to animals like fish.

Talking about symptoms of mercury consumption, Dr Afridi informed that common symptoms of mercury beyond safe limits in human bodies include anxiety, depression, irritability, memory problems, numbness, tremors, hearing and speech difficulties, lack of coordination muscle weakness, nerve loss in hands and face, trouble walking and vision changes.

United Nations Environment Programme (UNEP) Programme Officer Dr Shunichi Honda said that mercury was a global pollutant and now there were more legitimate calls within these countries and from external stakeholders to manage it effectively to protect human health and environment from its debilitating effects.

Appreciating the seriousness of Pakistan and efforts of the climate change ministry, Dr Honda said that it was heartening to see Pakistan taking all-out measures in collaboration with relevant government and non-governmental departments, industry and academia to make Pakistan mercury-free.

"Working on the completion of a draft report on the initial assessment of mercury in Pakistan and preparation of mercury inventory are clear signs of the nation's seriousness toward completely eliminating mercury use at any level in the country by the year 2020. Additionally experts are also researching about possible causes, sources and impacts of mercury in the country," he said.

Published in The Express Tribune, September 8th, 2018.
COMMENTS
Comments are moderated and generally will be posted if they are on-topic and not abusive.
For more information, please see our Comments FAQ