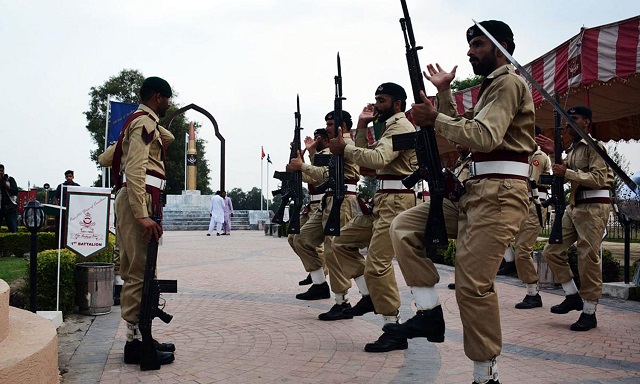 ---
As the nation commemorates its 53rd Defence Day on Thursday, prominent politicians took to social media to express respect for the country's veterans.

On the occasion, Director General Inter-Services Press Relations (ISPR) Maj Gen Asif Ghafoor remembered martyrs and their kin.


It's 'Defence & Martyrs Day' today. Let's visit homes of our martyrs. Let's salute them and their great families. Let's thank them for their great sacrifices for our country. Great nations never forget their martyrs; we are a great nation.#WeLovePakistan

— DG ISPR (@OfficialDGISPR) September 6, 2018


President-elect and senior Pakistan Tehreek-e-Insaf (PTI) member Arif Alvi honoured the bravery of Pakistan's soldiers.


Today I honour the brave soldiers of Pakistan and the martyrs who laid down their lives so that we could live and prosper. I condole with their families, specially the children who were deprived of their love but I do promise that they have our continuous support & prayers

— Dr. Arif Alvi (@ArifAlvi) September 6, 2018


Other political figures revered the fighters for their service to the nation.


میرے وطن یہ عقیدتیں اور
پیار تجھ پہ نثار کر دوں
میرے وطن میرے بس میں ہو تو
تیری حفاظت کروں میں ایسے
خزاں سے تجھ کو بچا کے رکهوں
بہار تجھ پہ نثار کر دوں
تیری محبت میں موت آئے
تو اس سے بڑھ کر نہیں ہے خواہش
یہ ایک جان کیا، ہزار ہوں تو
ہزار تجھ پہ نثار کر دوں
💚🇵🇰💚 pic.twitter.com/dzWzG1Xq3b

— Senator Sehar Kamran T.I. (@SeharKamran) August 29, 2018
شہید کی جو موت ہے وہ قوم کی حیات ہے
لہو جو ہے شہید کا وہ قوم کی زکوۃ ہے
تمہی سے اے مجاہدو جہاں کا ثبات ہے
تمہی سے اے مجاہدو جہاں کا ثبات ہے

پاکستان کی بقا اور سلامتی کے کئے شہید ہونے والے مسلح افواج، سول آرمی... https://t.co/nBZzCylZK9

— Ahsan Iqbal (@betterpakistan) September 6, 2018
Salute to 🇵🇰 Pakistan's soldiers and martyrs today. Prayers and respect for the families of our shuhda, who continue to send sons and daughters to serve in difficult situations and long furloughs #DefenceDay pic.twitter.com/CWLzMYnhXs

— SenatorSherryRehman (@sherryrehman) September 6, 2018
Atif Aslam, ISPR team up for Defence Day song
#DefenceDay and #MartyrsDay Celebrations 2018 at #APSCricketGround #MalirCantt, Malir Garrison #Karachi #Pakistan. #PakistaniTujheSalam pic.twitter.com/hBoAo4Nj8J

— Wasim Akhtar (@wasimakhtar1955) September 6, 2018
Today,we honour the sacrifice of our martyrs & salute the valour of our armed & civilian personnel for protecting our nation.Let's raise our hands in prayer for those who made the ultimate sacrifice of their lives and those who continue to put their lives at stake to keep us safe

— Senator Ayesha Raza Farooq (@AyeshaRaza13) September 6, 2018


Foreign Minister Shah Mahmood Qureshi visited the family of Captain Omerzeb who attained martyrdom in Operation Rah-e-Rast. 


Visited family of Capt Omerzeb shaheed who attained martyrdom in Operation Rah-e-Raast. It was an honour meeting the family. The entire nation is proud to have brave sons like Omerzeb & we will never forget the sacrifices of our people in the fight against terrorism.#DefenceDay pic.twitter.com/ZQ7ucNiXcR

— Shah Mahmood Qureshi (@SMQureshiPTI) September 6, 2018
تجدید عھد کا دن
۔۔۔سلام شہیدوں کو
جن کا خون ھماری آزادی کی ضمانت ھے۔
سلام غازیوں کو
جن کی شجاعت ھماری سرحدوں کا ناقابل تسخیر دفاع ھے #پاکستان زندہ باد

— Khawaja M. Asif (@KhawajaMAsif) September 6, 2018
We salute the brave sons of Pakistan Armed Forces who laid down their lives in the Defense of our beloved PAKISTAN. No sacrifice is too great for our Country #DefenceAndMartyrsDay

— Khurram Nawaz Gandapur (@GandapurPAT) September 6, 2018
On #defenceday we commemorate the many brave soldiers who paid their ultimate sacrifice (RIP) and all those who still defend their country. Still remember the courage of the pakistani peacekeepers from my time in the #congo #DRC #PakistanZindabad pic.twitter.com/fnYDj2Vmbx

— Bernhard Schlagheck (@GermanyinPAK) September 6, 2018
On Sept 6, 1965, Indian forces launched an attack on Lahore. The attack was repulsed. #DefenceDay
1: People in Lahore turn out to see a captured Indian tank
2: Students being given weapons training during the war
3: Pakistani, Iranian & Turkish nurses at a military hospital pic.twitter.com/txJQLjKcjS

— Nadeem Farooq Paracha (@NadeemfParacha) September 6, 2018