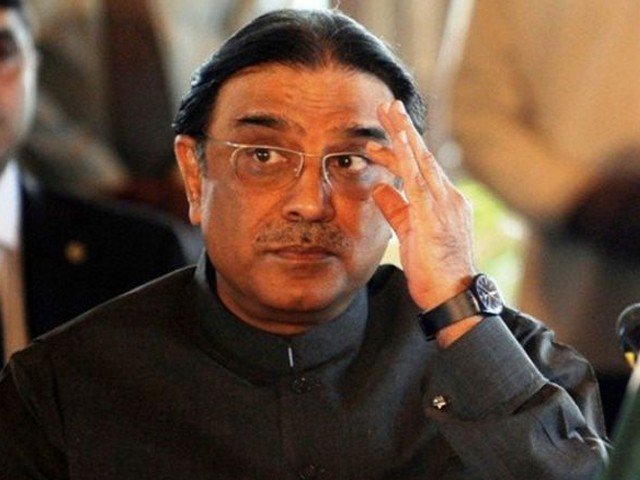 ---
ISLAMABAD: The Federal Investigation Agency (FIA) has discovered a new company -- namely M/s Landmark -- which is owned by former president Asif Ali Zardari and his sister Faryal Talpur.

This was disclosed in a report submitted by the FIA in the Supreme Court on Wednesday in the fake currency accounts case.

"One of the hard disks during raid at Khoski was forensically analysed. The analysis discovered a company that M/s Landmark which is a partnership firm between Asif Ali Zardari, Faryal Talpur and Azra Fazal," the report says.

SC forms Panamagate-style JIT to probe fake accounts case

It adds, "The firm is maintaining the account, 12-31-20620-714-124781, at Summit Bank, DHA Phase Branch, Karachi. The scrutiny of the account reveals that it was opened in 2013 and funds are deposited in the shape of pay orders … under different individuals/CNIC available.

"In the year 2015, the last amount was 4,736,924 rupees which was converted into CDR and transferred into the account of M/s Zardari Group," says the progress report submitted by the FIA in the suo motu case related to the transfer of Rs35 billion through fake accounts.

It is also claimed that Rs543 million was deposited in the fake accounts which is allegedly maintained by Zardari Group. Later, Rs180 million was withdrawn from fake accounts.

The report also reveals that another company -- namely National Gases (Pvt) Ltd -- was incorporated in the name of Muhammad Adil Khan CEO and a number of shareholders. From the year 2015, shares are being transferred in the name of Sara Tareen and Khawaja Ali Kamal Majeed, (now both directors of NGS) along with Muhammad Ali Khan.

Banking court extends interim bail of Zardari, others till Sep 25

"The shareholding of M/s NGS is increasing every year. This company was figured out during forensic analysis of the backup hard drives seized in a raid at Khoski Sugar Mills on August 26. The transactions of the company along with its role in laundering money are being analysed."

It is also informed that bulk of the cash is withdrawn from the fake accounts under genuine/fake signature of multiple persons, whose CNICs are available.

"In the same time period, bulk foreign currency (GBR 5,878,329) record collected so far have been transferred by accused persons/directors of M/s Omni Group and their family members through foreign currency accounts maintained at different banks."

It is suspected that foreign currencies have been arranged illegally in violation of Section 4(i) of the Foreign Exchange Regulations Act 1947 and deposited in the foreign currency accounts of the accused directors of Omni for onward transfer in their accounts maintained overseas."

The FIA also informed the apex court that it appears that funds were moved overseas illegally through Hawala on the basis of evidence like bulk cash is withdrawn from fake accounts, connection of accused persons with a private exchange company and transfer of funds through cheques having handwritten marks on the back of cheques.

It is also submitted that scrutiny of bank accounts of M/s KAM Crown maintained at the UAE by family members of the accused persons reveal that bulk cash AED deposited by individuals suspected of Hawla operators.

At the same time different companies are depositing funds in M/s KAM Crown. These are already suspected companies involved in Hawala for illegal transfer of funds.

The report says that funds in the accounts of M/s KAM Crown has been utilised for purchase of moveable/immovable properties in the UAE onward transmission to different individual companies in Sri Lanka, Kenya and to bear the expenses of the family and their friends.

The payments have been made to individuals like Arif Muhammad Saleh, Al Zarrini Exchange, Zulfiqar Wajid Hassan and Agha Sher Shah connected directly or indirectly to enquiries/investigation.

It is submitted that accused bankers namely Noureen Sultan and Kiran Aman who appeared before the court during hearing before the Supreme Court on September 4 for recording their statement under provisions of Section 337/164 CrPc. The trial court has adjourned the case till September 29 under provision of Section 344 CrPC.

It is also informed that Zardari will submit report on September 5.


COMMENTS (3)
Comments are moderated and generally will be posted if they are on-topic and not abusive.
For more information, please see our Comments FAQ