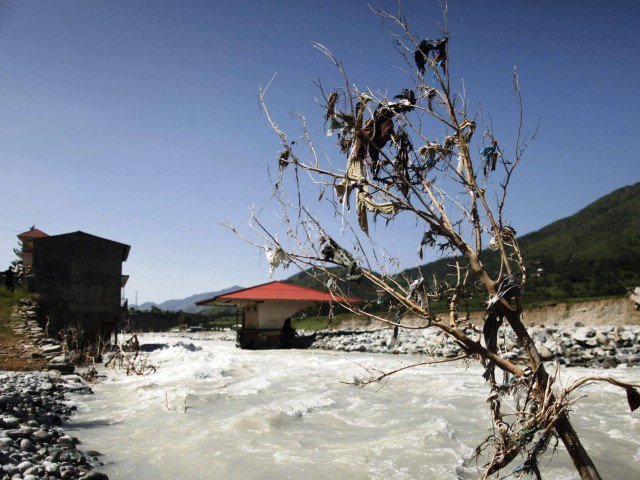 ---
ISLAMABAD: While lower than usual monsoon rains mean that the country has not had to deal with a flood situation so far this year, the incoming government is considering flood management measures but is hoping to steer clear of expensive, hard engineering or structural approaches.

Instead, the Pakistan Tehreek-e-Insaf (PTI) government is considering alternative means for flood management, encouraging an integrated approach through soft engineering or non-structural approaches.

In this regard, the Adviser to the Prime Minister on Climate Change Amin Aslam has directed the concerned authorities to conduct a comparative study on the matter, keeping in view the experiences of China and other countries in controlling floods and to submit recommendations for revisions in the incumbent flood control strategy.

"We should focus on the ecological storage of the flood waters, which entails tremendous opportunities and potential like groundwater recharge, flushing of polluted lakes and ponds and for creation of better habitats for migratory birds, with minimal social cost," he said while chairing a meeting in this regard with officials of the World Wide Fund (WWF) at the Climate Change Ministry on Tuesday.

"We need an integrated and comprehensive approach towards floodplain management to gain maximum benefits and minimise the risk factors with lesser social cost and to use it as a tool for ecosystem-based adaptation of climate change effects," Aslam said.

Earlier, WWF officials gave a detailed presentation regarding workable and cost-effective strategy for rational use of floods and to plug the wastage of precious resources.

It was detailed that Pakistan is a signatory to the Ramsar Convention, a global platform for conservation and use of wetlands resources. Ramsar

In 2012, the Ramsar Advisory Mission (RAM) visited Pakistan and came up with key recommendations to mitigate damages caused by floods, use floodwater for ground-level recharge, restoration of floodplains and riverine ecosystem through 225 wetlands which cover 780, 000 hectares — or around 10 per cent of the country's total land mass.

Of these, 19 wetlands were designated as Ramsar sites for having international significance in view of criteria of the Ramsar Convention.

The mission had recommended that extra flood water could be stored in large and medium wetlands along the Indus River. In the of the mission's recommendations, Rs300 million were allocated under the fourth National Flood Protection Restoration Plain (NFPP) programme of the Rs167 billion required overall.

Unlike China, Pakistan lacks an agency which can deal with wetlands. The draft national forest policy 2015 had recommended that a wetlands management authority be set up.

Published in The Express Tribune, September 5th, 2018.