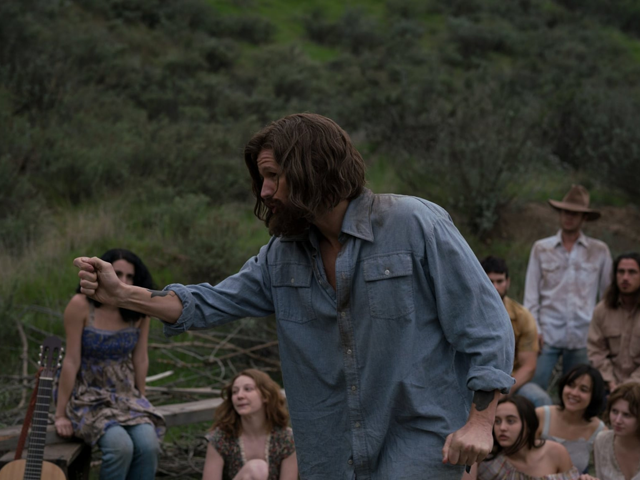 ---
VENICE: Charles Manson did not wield the knives in the 1969 murder spree that ended the Californian hippy dream, so what drove the people who did so on his orders? That is the question posed in Charlie Says which premiered in Venice on Sunday.

Doctor Who star Matt Smith plays Manson, a wild-eyed petty criminal who sets up a hippy commune where his followers worship him like a messiah, clinging to every word of his incoherent prophecies of Armageddon.




Directed by Canadian Mary Harron, who made the 2000 Christian Bale movie American Psycho, Charlie Says is set three years after the murders of, among others, Roman Polanski's actor wife Sharon Tate and her unborn child.

Serving life in jail are three women, still in thrall to Manson and clinging to his promise that they will all live out the coming race war in a hole in the desert from which they will emerge to populate a glorious new world.




Trying to reverse the brainwashing is a prison teacher who is astonished that the bright-eyed young women seem untroubled by their crimes and the fact they will die in jail.

"That's a perspective that no one has seen and no one has really focused entirely on: their story or their journey about how they ended up there and why they did the things they did," Harron told Reuters in an interview.

"To me that's the great mystery. You know Charles Manson was insane, but they were not, so how did he get them to do these things?"




Smith, who portrays Manson with a guitar slung around his neck as he picks out third-rate songs he believes will propel him to global stardom, said, "This isn't a film about Charles Manson. There's nothing new to find out (about him), but I like the idea that this was a film about what made these girls go to commit these crimes."

Screenwriter Guinevere Turner, who co-wrote the American Psycho script with Harron, said she wanted to show how it might not be as difficult as most people would think to fall into the thrall of a charismatic huckster, if he was offering the promise of true love and salvation.




"(I tried) to sort of implicate the audience in 'what would you do?' ... It was all very fun and happy, and orgies and drugs at the beginning, and that was great. And then and it turned – and at what part of the journey would you walk away?"

Charlie Says is competing in the Orizzonti segment of the Venice Film Festival that runs until Sept 8.

Have something to add to the story? Share it in the comments below. 
COMMENTS
Comments are moderated and generally will be posted if they are on-topic and not abusive.
For more information, please see our Comments FAQ