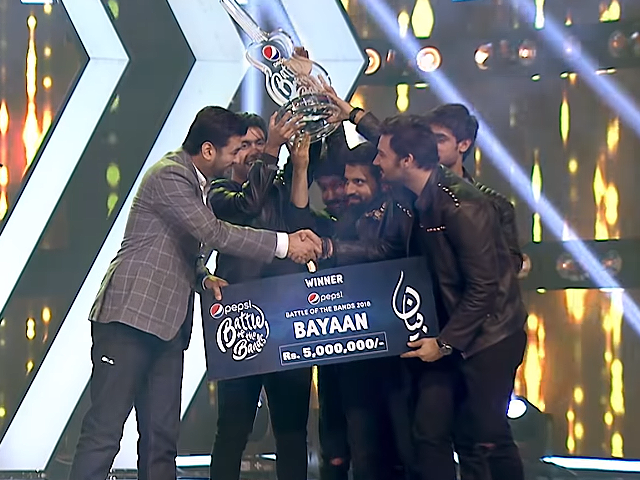 ---
KARACHI: The two-month journey of Pepsi Battle of the Bands (BoB) season three finally came to an end this Sunday. With Xarb and Bayaan fighting for the winner's title, the season's grand finale offered multiple showcases, including performances by the four judges.

The episode began with Strings performing their 2006 hit Zinda. They crooned a different rendition of the song though, which as they said always brings out a different and high energy on stage.




Meesha Shafi performed an original titled Main. With the lights turned low and the haunting melody, it turned out to be an enjoyable watch, although an unnecessary use of masks to make it more mysterious didn't do any favours.

Meanwhile, Shahi Hasan, who served as a judge last year and a mentor this season, performed a reworked rendition of Vital Signs' Maula. And Fawad Khan amazed in a performance with 17 other musicians, singing Satrangi – a track he wrote back in 2008 and only performed for the first time on the BoB stage.




Satrangi belonged to the world music genre, and was a fusion with a message of togetherness and unity, as Khan described it. It was an otherwise memorable performance with a beautiful composition and an absolutely majestic instrumentation by all musicians involved.

The episode also saw the two finalists take the stage one last time. Bayaan performed Nahein Milta, which was the first song they produced as a band when they started out, while Xarb did Kashmakash.




A particularly revealing moment came when the bands were given the opportunity to ask the jury questions. While everyone mostly asked the judges about their beginnings, creative processes and sought advice, Bayaan asked the former Entity Paradigm (EP) front man whether he'd return to music, particularly rock music, full-time. Khan responded saying he usually only goes back to the studio to feel the nostalgia.

He said he might come up with a song or two every few years but would not come back to music completely. However, Khan added that music is a case of 'never say never.' He left the door open for future possibilities and said it might happen anytime he feels he could do rock music one more time.




Coming back to the spirit of the competition, we saw video packages briefing Bayaan and Xarb's story as they introduced each band member's families, talking about their musical beginnings, aspirations and the subsequent journey.

Then came the big moment! The results were to be announced and the tension which had been building up for the last several weeks was relieved. While both Xarb and Bayaan garnered significant praise, there could only be one winner and it was Bayaan.




The underdog band completed their tumultuous journey with a huge surprise victory and etched their names in the history books as the winners of season three. After Aaroh and Kashmir, it was Bayaan's time to shine. However, as the jury often said to both the bands, their actual musical journey begins now.

Have something to add to the story? Share it in the comments below.