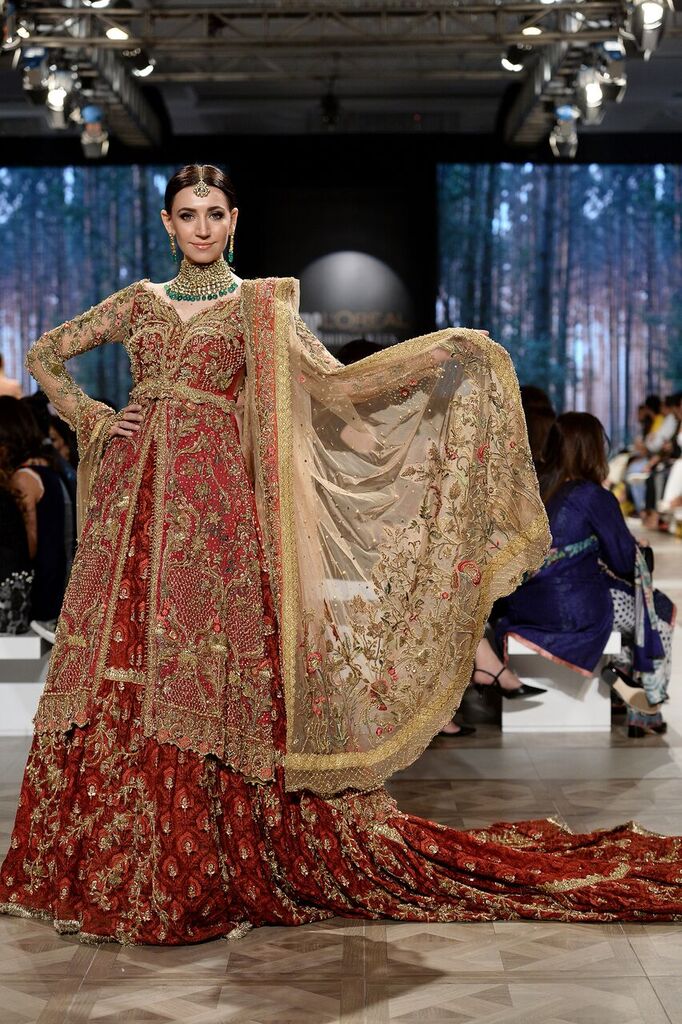 ---
LAHORE: The Pakistan Fashion Design Council (PFDC) enters its 12th year as the country's leading institution for existing and upcoming talent. The platform has played a prominent role in creating a synergy between the craft, the corporate world, designers and the consumer. This month marks the council's eighth successive PFDC L'Oreal Paris Bridal Week (PLBW), incorporating a myriad of designers showcasing wedding wear alongside trending hair, makeup and jewellery. Needless to say, PLBW is now an industry mainstay, with couturiers working towards maintaining top-notch quality in their offerings.

As Lahore is once again playing host to PLBW 2018, here's a lowdown of the design houses who will be exhibiting their collections at the upcoming three-day fashion extravaganza.




Designer: Kamiar Rokni

With the collection titled Moonrise, The House of Kamiar Rokni celebrates the power of femininity and the beauty of heirlooms. "To be a part of PLBW means presenting at the best platform for bridal couture in the country. The event stands for excellence in fashion and it is an honour and privilege to be a part of it. As usual, we are very excited to be presenting this year," Rokni told The Express Tribune.

Designer: Faraz Manan

"Having done my solo shows for the past five years in Lahore, Dubai and London, I'm now super excited to be showing in my city once again. I will be exhibiting at a solo show at PLBW," revealed Manan. His line will bring a fusion of two different cultures and aesthetics to the ramp. Manan shared the audience will get to see a variation of silhouettes and colours too.

Designer: Sara Rohale Asghar

"As a designer I feel extremely motivated and inspired to be showcasing at PLBW. It positively challenges my creative side and makes me experiment with colours and play with cuts to bring something new to the ramp each year," said Asghar. As its name suggests, her line 'Fleur-de-lis' has a French influence.




Designer: Mehroze Khan

This year Khan's collection represents diversity, theatricality and a poetic amalgamation of art and craft. "Being part of PLBW is a validation, recognition and above all a great feeling," said the budding designer.

Designer: Saira Shakira

The collection is a combination of classic and edgy. "We have always loved designing pieces that stand out and we have tried doing the same this year. You'll see fusion with a twist. We started our career with PFDC; it gave us our first big break, so it will always hold a special place in our hearts," said the designer duo.

Designer: Hamza Bokhari

"PFDC has been an integral part of my professional life. I started my career with this platform and got an award for Best Emerging Designer," he said. Being a traditionalist at heart, his showcase titled Mizaaj is a mix of opulence and minimalistic designs. It draws inspiration from the grandeur of south Pakistan. "It comprises sparkling florals and animal motifs on feminine silhouettes in a palette of wintry jewel tones."




Designer: Hira Ali

"Our showcasing collection is quintessentially Hira Ali. It's minimal, edgy, modern and transformative," said Ali. "It's not for everyone. We create designs for those who step out of the mould."

Designer: Nomi Ansari

Haute couturier and the undisputed 'Master of Colour', Ansari's collection 'Maya' is indubitably inspired by the splendour of the subcontinent's opulent palaces of yore. It invokes a sophisticated, timeless majesty, while staying true to the design house's aesthetic.

Have something to add to the story? Share it in the comments below.