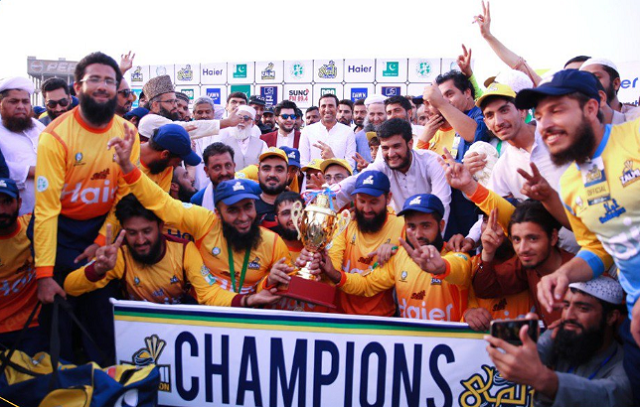 ---
PESHAWAR: Pakistan's first-ever Madrasa Cricket League has concluded at the Arbab Niaz Cricket Stadium, Peshawar with Al Nujoom Risers emerging victorious in the finale. The league was initiated by the Pakistan Super League (PSL) franchise Peshawar Zalmi through their Zalmi Foundation.

Zalmi head coach Mohammad Akram, bowling coach Saqlain Mushtaq and former captain of the Pakistan cricket team Younis Khan were present at the final match.

For a long time, students of religious seminaries have remained an isolated part of the society. Mixing with other community members always seemed to cast a shadow of doubt on them especially following the 9/11 attack in the United States.

Despite the governments' failures to take necessary initiatives to integrate seminary students into the society, the PSL franchise have done a fantastic job by introducing this unique cricket tournament to integrate Madrasa students into the sports culture.

"For this purpose we started a tournament in Peshawar's Arbab Niaz Stadium in which 12 teams of the various madrasas of Khyber-Pakhtunkhwa participated," former Pakistan spinner Saqlain Mushtaq told The Express Tribune.

First-ever Madrasa Cricket League kicks off in Peshawar

"Sports harbour a sense of community in a society, unity among distanced members and preache love. Peshawar Zalmi have taken a positive step for the war-torn community of the province," he added.

Previous governments tried to address the issue by reforming the seminaries but that was not sufficient, the off-spinner elaborated. "But the Pakistan Tehreek-e-Insaf (PTI) government is trying to streamline them [seminary students] into the same society, and reform [madrasas] with good intent."

The bowling head coach of Zalmi welcomed the decision to conduct a tournament for seminaries and students and added that such opportunity will also provide equal opportunities for the madrasa students.


#ZalmiMadrasaLeague started of as a cricket league but have turned into an ideology. The appreciation and support we have gotten was beyond our expectation. Hoping that more initiatives are taken to empower the Madarasa Students so they can also showcase their passion. pic.twitter.com/aMS0wB2yNa

— PeshawarZalmi (@PeshawarZalmi) August 31, 2018


According to a rough estimate provided by the federal government, around 2.4 million students are enrolled in madrasas, of which most are teenagers with limited or no sport exposure.
COMMENTS
Comments are moderated and generally will be posted if they are on-topic and not abusive.
For more information, please see our Comments FAQ