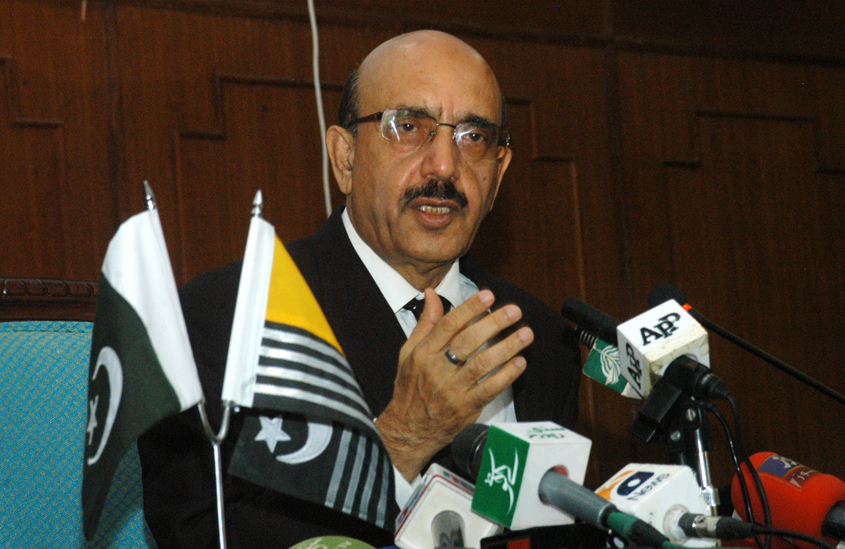 ---
MIRPUR: Azad Jammu and Kashmir President Sardar Masood Khan has said that India doesn't seem serious in resolving the Kashmir conflict through peaceful means.

"India wants to resolve Kashmir issue by military means and is not serious to resolve the problems through peaceful means,", he expressed these views while addressing a public meeting held at the historical site of Neela Butt in Poonch division on Monday to observe 'Youm e Neela Butt'.

HRW South Asia director urges India to accept blatant rights abuses in Kashmir

This day has a historic significance in the Kashmir freedom movement when the first bullet was fired by Sardar Muhammad Abdul Qayyum Khan against the despotic Dogra rule — which led to the liberation of AJK from the Jammu Kashmir state.

The day is observed every year in AJK to recall and highlight the significance of a historic event that took place on August 23, 1947, when the Muslim population of the area under the dynamic leadership of Mujahid-e-Awwal Sardar Muhammad Abdul Qayyum Khan rose in revolt against Dogra ruler Maharaja Hari Singh and started freedom movement as envisioned in the Accession to Pakistan Resolution passed on 19th July 1947 at the Srinagar residence of Ghazi-e-Millat Sardar Ibrahim Khan.

The reluctance of despotic Dogra ruler to accept the popular demand of Kashmiri people to announce Jammu and Kashmir's accession with newly created Pakistan had forced Sardar Abdul Qayyum Khan and his companions to launch freedom movement from the peak of Neela  Butt.

President All Jammu Kashmir Muslim Conference and Former AJK Prime Minister Sardar Attique also addressed the meeting recalling the significance of the Neela Butt Day in the history of Kashmir freedom movement. President Sardar Masood Khan continued assaying "on this historic day and place we are gathered here to reassure our commitments with the ongoing struggle of Kashmiri people for their right to self-determination and to pay homage to those who have devoted and sacrificed their lives for the freedom of their motherland."

Hurriyet leader slams use of brute force in held Kashmir as fresh protests erupt

Paying homage to one of the pioneers of Kashmir liberation struggle Sardar Qayyum, the AJK President said he was a legendary leader who rendered his unmatched services during his lifetime for freedom movement of Kashmir, political rights of AJK people and development of the liberated territory.

Referring to situation in Occupied Kashmir, President Masood Khan said over 700,000 occupation army soldiers are engaged in systematic attempts for dilution of Article 35- A and 370 to change the demography of occupied territory and thereby frustrate the Kashmiri peoples' demand for self-determination will not be acceptable to the people of Jammu and Kashmir at any cost.

Published in The Express Tribune, August 28th, 2018.
COMMENTS
Comments are moderated and generally will be posted if they are on-topic and not abusive.
For more information, please see our Comments FAQ