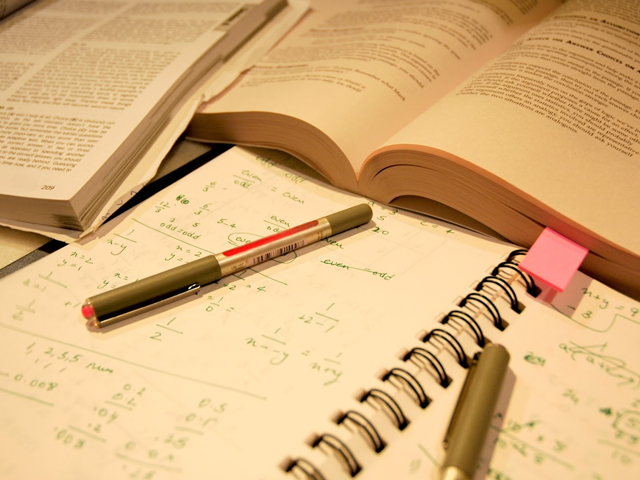 ---
ISLAMABAD: Three students of Sargodha colleges clinched first position by securing 1058 marks out of a total of 1100, in Intermediate annual examination.

The Federal Board of Intermediate and Secondary Education (FBISE) announced the result of Higher Secondary School Certificate Annual Examination 2018 on Monday.  As per the result document, Hammad Saleem of Punjab College of Science, 2-Khayaban-e-Sadiq, Sargodha Cantt., Masooma Zainab Bokhari and Momina Maham of Punjab College of Information Technology for Women, 2-Khayaban-e-Saddiq, Sargodha, secured first positions with 1058 marks.  All three students were from the pre-medical group.

Serious students : Girls clinch top slots in class IX exam

Second position went to Muhammad Moiz Mubashir of Punjab College of Science, 2-Khayaban-e-Sadiq, Sargodha Cantt with 1057 marks, and the third was secured by Aiman Gul of HITEC School and College for Girls, Taxila Cantt who obtained 1053 marks.

In pre-engineering group Muhammad Ahmed Mansoor of Fauji Foundation College for Boys, New Lalazar, Rawalpindi Cantt secured first position with 1049 marks, while second position was secured by Muhammad Uzair Asif of Islamabad Model College for Boys, G-10/4 with 1044 marks, and the third position was obtained by Bareera Sadia of PAEC Model College for Girls, Chashma, Mianwali by securing 1042 marks.

In Science General Group Aimen Amir of Base College, Munirabad, G.T. Road, Wah Cantt secured 1020 marks and secured first position, Rabbia Sajjad of Punjab College, 92, Nazimuddin Road, F-8/4, Islamabad secured second position with 991 marks while Zunair Wasim of F.G. Sir Syed College, The Mall, Rawalpindi got 990 marks and clinched third position.

In Commerce Group students of Punjab College of Information Technology, G-6/1 Aabpara, Islamabad secured first and second positions as Bisma Anwar and Mehran Habib obtained 980 and 959 marks respectively.  Third position went to Aliza Shahid of Punjab College of Commerce, 661-Peshawar Road, Rawalpindi Cantt who received 953 marks.

Dismal results in CSS exams shock senior education officials

A private student Saniyya Iman secured first position in Humanities Group by obtaining 979 marks. It rarely occurs that private students clinch any positions as they study without any guidance and institutional support. Two students-Maria Sharafat and Tahira Azam - of Islamabad Model College for Girls (Post Graduate), F-7/2, Islamabad clinched second and third position securing 975 and 968 marks respectively.

Only three positions went to government colleges of Islamabad while the rest were secured by private establishments or institutions of other cities.

In total 59,568 students sat in the exam held in the months of April-June 2018 and out of that number 46,112 students were declared to be successful. The overall pass percentage remained 77.41 percent. The pass percentage of regular candidates was higher than the ex/private candidates. About 47,837 regular students had appeared and out of them 39,449 were declared pass with 82.47 pass percentage. While some 11,731 private/ex-students had appeared and of them 6663 passed the exam with 56.80 pass percentage.

Teachers demand dues for exam duties

This year's exams were rocked by the harassment allegations by some students of Bahria College Islamabad who had alleged that an invigilator sent by the board had harassed, groped, and coerced female students during the premedical practical.  However, the episode did not harm the academic record of the students and those who had mustered courage to speak up against the menace have passed the exam with good marks as the practical was canceled and taken again by the board. Though, the result was somewhat delayed due to the incident.

Published in The Express Tribune, August 21st, 2018.
COMMENTS
Comments are moderated and generally will be posted if they are on-topic and not abusive.
For more information, please see our Comments FAQ