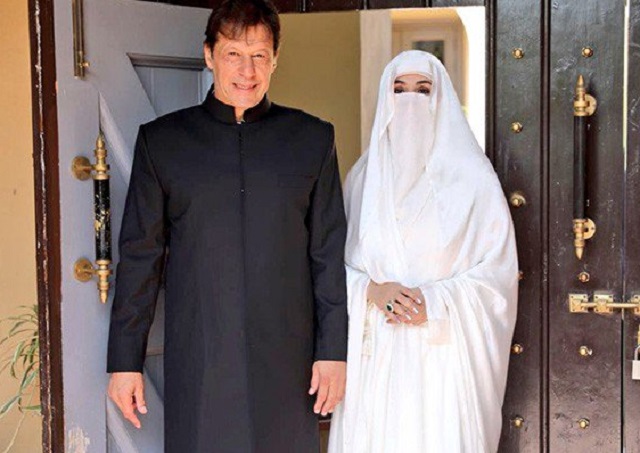 ---
With the nation's eyes set on Pakistan Tehreek-e-Insaf (PTI) chairman Imran Khan's inauguration as prime minister on Saturday, his wife's outfit for the occasion also drew social media attention.

Bushra Imran chose to wear a veil, but her choice was heavily criticised as 'not fit' for the country's first lady. However, some admired her for dress modestly.


Imran Khan's wife number three. It's like we've gone back to the Middle Ages! #BushraManika #BushraBibi #ImranKhan #NayaPakistan pic.twitter.com/rsxjRxbLHq

— Seema Goswami (@seemagoswami) August 18, 2018


Discourse in this regard has resurfaced after she assumed her new role. However, certain quarters termed the criticism as unwarranted policing of women's choices.

Twitter reacts after Imran's election as PM

With some quick to note that men are judged for the choices made by the women in their life.

A social media user lauded the freedom of choice for women to choose to dress as they please in 'Naya Pakistan'.


First Lady Bushra Maneka & all women attendees killing all 'liberals' at this moment. All invited yet without specific requirement of dress-code; as it should be. This is #NayaPakistan and freedom of choice for women to dress as they see fit-no judgement#PrimeMinisterImranKhan

— Saffina Ellahi PTI SMT (@SaffinaEllahi1) August 18, 2018


Sociologist Nida Kirmani spoke out saying that Bushra's attire was the least of the problems the public should be worried about.


Bushra Maneka's burqa should seriously be the least of our concerns. pic.twitter.com/9M8XCEvFLF

— Nida Kirmani (@NidaKirmani) August 18, 2018



Another social media user said that "I can't believe people still think they have a say on what Bushra Maneka chooses to do or wear. None of your concern".


https://twitter.com/hibzdontlie4/status/1030772469655920641

Notwithstanding, a Twitter user said that "Bushra Bibi has reached and I'm a little disappointed. But I think this is how she wants to be".

https://twitter.com/FaizaYasir/status/1030681001889095680


COMMENTS (18)
Comments are moderated and generally will be posted if they are on-topic and not abusive.
For more information, please see our Comments FAQ