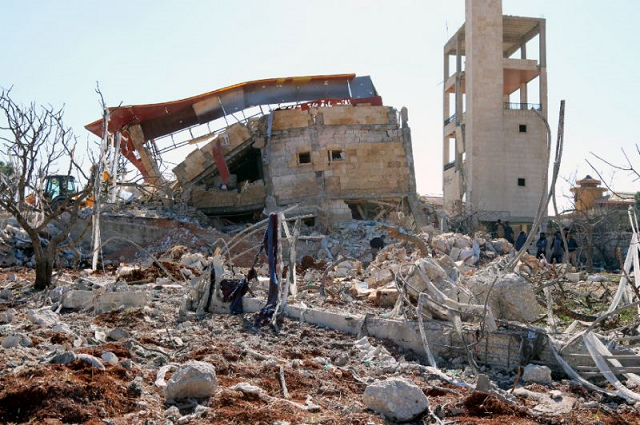 ---
BEIRUT: Syria's northwestern province of Idlib, largely dominated by militants, is the last to remain mostly out of regime control after more than seven years of civil war.

It is to Idlib that President Bashar al Assad's government sends militants  or civilians evacuated from other opposition strongholds, retaken after devastating sieges and offensives.

Here is some background.

The strategically important province shares a border with Turkey and is also adjacent to Latakia, a regime stronghold on the Mediterranean coast that is home to Assad's clan.

Syria militant groups form new coalition as govt eyes Idlib

The province counts some 2.5 million inhabitants, including around half of them displaced from other areas by the war.

Before fighting broke out in 2011, most of Idlib's inhabitants worked in agriculture, mainly growing cotton and cereals, or commuted to the neighbouring province of Aleppo.

In March 2015, a coalition of militant groups including some linked to Al Qaeda seized the Sunni-majority province's main city, also called Idlib.

Around 60% of Idlib province is currently controlled by Hayat Tahrir al Sham (HTS), led by Syria's former Al Qaeda affiliate, with other hardline groups also present.

In February 2018, militant outfits Ahrar al Sham and Nureddine al Zinki announced they were merging as the Syrian Liberation Front, with Turkey's backing, to counter the growing power of HTS.

The group launched an assault against the militant alliance's positions, taking back the provincial towns of Ariha and Maaret al Numan.

On August 1, the group announced the formation of a new coalition, the National Liberation Front, which merges with four other militant factions.

Regime forces have been accused of several chemical attacks in Idlib province.

In February 2018, at least 11 cases of suffocation were reported at Saraqeb, the Syrian Observatory for Human Rights said, quoting inhabitants and medical sources who spoke of a "toxic gas".

A sarin gas attack in April 2017 hit the town of Khan Sheikhun, killing 83 people, according to the United Nations. The Observatory said 87 died, including more than 30 children.

In October, the United Nations blamed the regime, which has consistently denied responsibility.

In August 2016, a UN commission found helicopters from two regime-controlled air bases had dropped chlorine-filled barrel bombs on two Idlib villages in 2014 and 2015.

In October that year, the commission concluded that the army also carried out a chemical attack, probably with chlorine, at a third village in 2015.

Idlib province was one of the four 'de-escalation' zones established in September 2017 in a bid to reduce violence.

However, government forces in December, backed by Russian air-power, launched an offensive in the southeast of the province.
After weeks of intense fighting they had control dozens of villages and towns, as well as the military airport of Abu Duhur.

The province became a priority for the regime after its Russia-backed victories in 2018 against militant holdouts in Eastern Ghouta, near Damascus, and in the country's south.

'Victory is near', Syrian president tells troops

"Now Idlib is our goal," Assad said on July 26.

But analysts say any offensive will likely be limited in scope, giving more time for a deal between Russia and Turkey on the fate of the province.

On August 9, regime forces shelled areas around the southwestern town of Jisr al Shughur, and dropped leaflets in the province's eastern countryside urging people to surrender.

The United Nations called for urgent negotiations to avert "a civilian bloodbath" in Idlib.