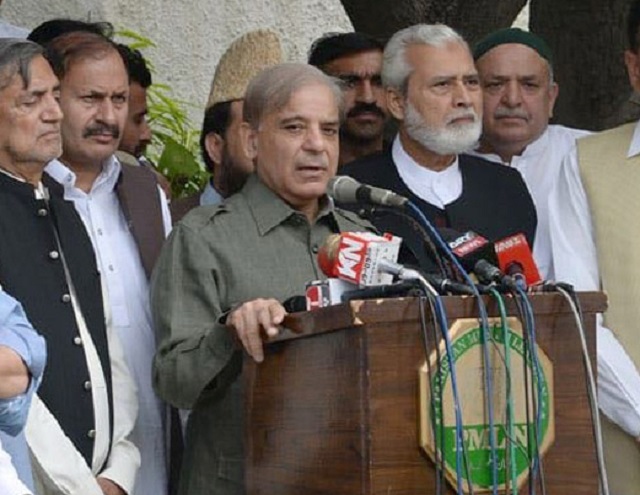 ---
LAHORE: Pakistan Muslim League-Nawaz President has demanded for an inquiry into the recently held general elections, alleging massive rigging.

The PML-N president was addressing the media here on Tuesday on the occasion of the 72nd Independence Day. "This country cannot prosper with rigged elections, its only positive development work that can take us forward," said Shehbaz.

He further added that even after 71 years, democracy was still sailing through rough waters and we still have failed to determine our direction.

"Seven long decades should have been enough to make Pakistan a financially and politically stable country, but we are still holding onto the begging bowl," said the former Punjab chief minister adding that the only way to move forward is to accept this reality and, "call a spade a spade, we need to call these polls engineered."

Sharifs cut cake to celebrate Independence Day behind bars

He also questioned the Election Commission of Pakistan on the failure of the RTS system and why polling agents of several political parties were kicked out during the vote count.

Talking about the freedom struggle, Shehbaz said that we need to remember the sacrifices of our forefather and of the migrants. "We need to be honest with our country and take this country forward together. He said that Pakistan could have also celebrated election results along with Independence Day, had it not been for rigging.

"We still went to the Assembly and took oath carry the torch of democracy," said Shehbaz adding that despite all odds, they still have emerged as the biggest party in Punjab both in NA and Punjab Assembly.

However, on question regarding chances of forming government in either house, he said that they don't believe in buying out votes.

"Wheeling and dealing is a malpractice and needs to stop," he claimed adding that it would be better to spend the billions spent on buying MNAs and MPAs were spent on public welfare.