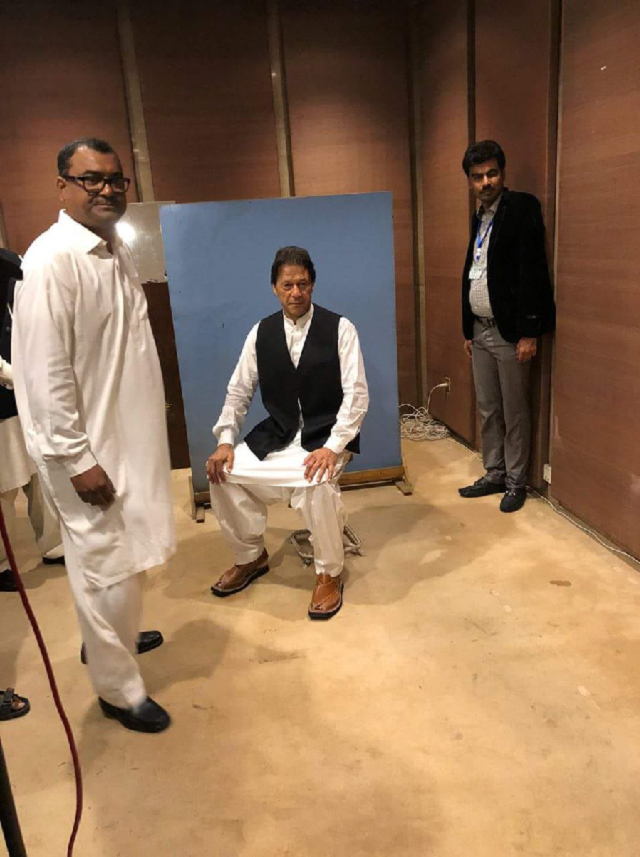 ---
At the inaugural session of the third consecutive elected National Assembly, prime minister-in-waiting Imran Khan borrowed the chief photographer's waistcoat to pose for his official picture.

On Monday, all those who had taken oath had to register at the facilitation center where they were also photographed by NA's official photographer Zafar Sultan. The photographer suggested that Imran should wear a black waistcoat over his white shalwar qameez for the official photograph.


Title this 🤗 pic.twitter.com/hhWjnFankp

— PTI (@PTIofficial) August 13, 2018


National Assembly begins 'naya' tenure

At this, the Pakistan Tehreek-e-Insaf (PTI) chief said that he would rather wear Sultan's waistcoat instead of the one provided from the committee room for pictures.

Candidates elected to the National Assembly as well as three provincial legislatures in the wake of July 25 general election took oath on Monday as lawmakers to kick start process of the historic second consecutive democratic transition of power in the country.




The maiden session of the 15th National Assembly that was summoned by the President of Pakistan started at around 10am amid heightened security in the federal capital in general and around the Parliament House in particular.




All eyes were on the MNAs-elect on August 13 with media men swarming in and outside of the Parliament House to catch a glimpse of the elected lawmakers. The assembly hall looked comparatively solemn with many new faces apparently getting the feel of the house.

Newly-elected MNAs take oath in landmark session today

However, the former president Asif Ali Zardari stood out among these MNAs-elect. Zardari, who is also co-chairman of Pakistan Peoples Party (PPP), returned to the parliament after 22 years. He entered the house along with former prime minister Raja Pervaiz Ashraf, who has also been reelected after a gap.