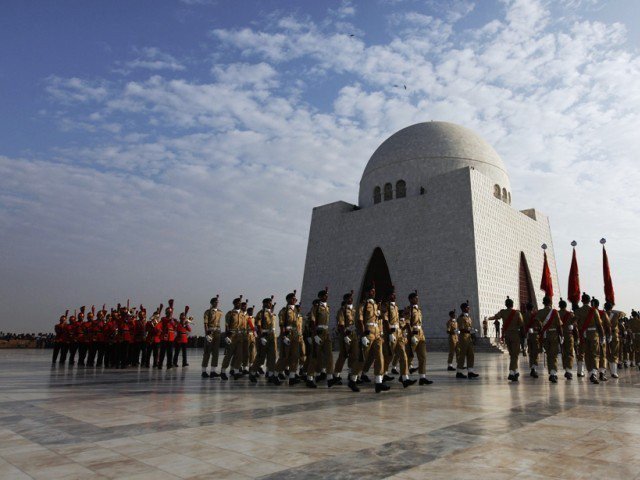 ---
KARACHI: Pakistan Tehreek-e-Insaf's (PTI) governor-designate Imran Ismail was denied entry to Quaid's mausoleum on Tuesday morning. According to a spokesperson of the Quaid-i-Azam Mazar Management Board (QMMB), his name was not present on the guest list.  On the other hand, the Pakistan Peoples Party's (PPP) designated chief minister (CM) Murad Ali Shah was allowed to enter the mausoleum to offer Fateha, since his name was on the list.

Ismail was accompanied by PTI's Sindh assembly members and offered his prayers outside the mazar's main entrance. After a while, Ismail was given permission to enter, but the estranged leader chose to leave instead. Talking to the media, he said that it was surprising how a CM-designate was allowed entry, but not the designated governor. Displeased with the mausoleum's administration, Ismail also tweeted: "We were denied access to Mazar-e-Quaid today for Fatiha, while PPP delegation led by CM to be was allowed and accompanied by Commissioner Khi. With full CM Protocol." He also reiterated his earlier statement regarding plans to demolish the walls outside Bilawal House.

Sharifs cut cake to celebrate Independence Day behind bars

The secretary of QMMB told The Express Tribune that the mausoleum opens for general public after 1pm on August 14 and Ismail was there at around 12.  He added, "Later, we also allowed him to enter along with his convoy." On a question regarding Shah's entry, he said that the PPP had earlier requested their delegation's entry.

The letter from the Sindh protocol director-general to the Karachi commissioner, which includes names of the dignitaries attending the wreath-laying ceremony at the Mazar of Quaid-e-Azam, does not include any name of either Ismail or the people in his convoy. Murad Ali Shah's name was the seventh on the list along with PPP Sindh President Nisar Ahmed Khuhro. "We have to go by the book and follow the procedure," said an official of the mausoleum's board, adding that in the past law and order situations arose when they allowed members of two political parties to enter at the same time. "The senior leadership does not fight, but the party workers engage in brawls," he explained.

According to the official, the letter containing the guest list for the wreath laying ceremony was received on August 13 from the Commissioner House. "The SOP [standard operating procedure] is that when members of one party leave the mausoleum, we allow the other party in," he said adding that if a party arrives early they have to wait.  In case of PTI, he said that they were initially not allowed inside as the PPP delegation was already present and also because their names were not mentioned in the list.

Ismail did not respond when contacted by The Express Tribune.